5 simple steps to fix QuickBooks couldn't Connect to Email Server error
We are going to learn some easy but proven ways to fixing the "couldn't connect to email server" error. This blog post will discuss the situations when you may receive this error, the causes triggering it and the troubleshooting methods to fix it. Read this article until the end so that you fix as well as prevent this error from appearing on your QuickBooks program.
"Couldn't Connect to Email Server: We were unable to connect to the email server for your email provider" can hold you back from completing a crucial task or force you to miss your deadlines. The first thing you should do after receiving this error is to click on the Retry button in the error message box. If it persists, you can perform the troubleshooting steps provided further in this article. We recommend you perform them in the order as provided. The following error message might appear on your desktop screen when the error targets you:
| Error | Description |
| --- | --- |
| Couldn't Connect to Email Server: | We were unable to connect to the email server for your email provider |
| Or | QuickBooks was unable to send your form for the following reason: QuickBooks was able to connect to the remote server but could not understand the server's response. Please try again to see if the problem has been corrected on the server. |
But before we learn about the troubleshooting steps, let's understand what triggers "QuickBooks Couldn't Connect to Email Server error".
"Could not Connect to Email Server" Error in QuickBooks – Causes
You might get the webmail error due to the following situations:
Email server settings may be misconfigured
User's credentials may be inaccurate.
Internet Explorer/Edge browser settings may be incorrect.
Your antivirus may have flagged QuickBooks program.
See Also: Steps to Entering and Deleting Transactions by batch in QuickBooks
Steps to Fix Error: Could Not Connect to the Email Server when using Webmail in QuickBooks Desktop
Checkout the below given troubleshooting methods in order to resolve the QuickBooks could not connect to email server error. Follow the steps in sequentially:
Step 1: Update QuickBooks to the latest release
Updating QuickBooks desktop will equip you with latest features and fixes and help you fix many possible QuickBooks errors, including "couldn't connect to email server."
Open QuickBooks Desktop and go to the Help menu.
Go to Update and then the Latest Release Page.
See if your QuickBooks product is selected or go to the Change link and select the Appropriate product.
Click on the Update button and download the update file.
Click on Setup Automatic Updates and follow the prompts to automatically download and install the latest updates in QuickBooks.
Step 2: Check the Webmail preferences settings
Open QuickBooks and go to Edit menu.
Select Preference and then Send Form on the left pane.
Under My Preferences, select your Email account and select Edit.
After the Edit Email Info screen opens, go to the SMTP Server Details section and enter the Server name and Port to your email.
Read Also: How to Troubleshoot QuickBooks Payroll Error Code 30159?
Step 3: Reset Internet Explorer settings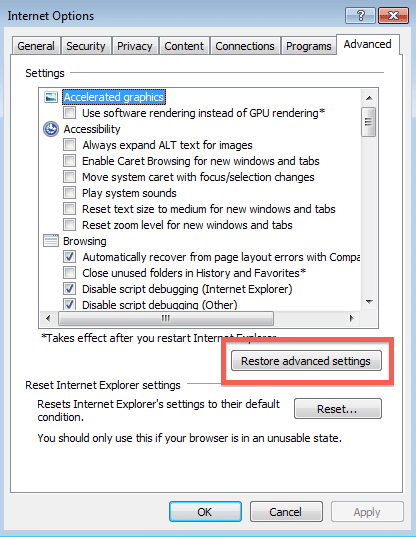 Open Internet Explorer (IE) and click on the Tools menu or the Gear icon.
Select Internet Options and then the Advanced tab.
Click on Restore Advanced Settings.
Press OK and close the browser.
Step 4: Change the Antivirus settings
Your antivirus may also block the outgoing emails. To make sure it's not happening, go to the antivirus settings and ensure that QuickBooks access is not being blocked. You can also turn off the email filtering feature.
In case you are not confident in performing the changes in your antivirus settings, we recommend you to take help from an IT expert.
Step 5: Check your email credentials
You may as well be facing difficulty in sending the email due to oversight. Please check your entered email address and password carefully and see if they are spelt correctly.
Read Also: How to Troubleshoot QuickBooks Payroll Error Code 30159?
Summing Up!
If you follow all the tips provided in this post and perform them appropriately, you are very likely to be able to fix Couldn't Connect to Email Server Error in QuickBooks Desktop. In case the issue persists after performing all the steps, please contact our certified experts immediately.
Our 24/7 QuickBooks error support team of experts is available 24×7 and is equipped with innovative tools and technologies to help you fix such errors or any other type of QB-related issue at the earliest.
Other helpful articles:
Steps to Connect your email to QuickBooks Desktop
Fix QuickBooks Error Code H303 (Problem with Multi-user Hosting)