Learn how to Install QuickBooks Enterprise in Your System
QuickBooks Enterprise is an advanced accounting software that assists millions of business owners and accountants manage their work efficiently with very less effort. If you are an existing QuickBooks user and upgrading to QuickBooks Enterprise, you already are aware of its usefulness. However, if you are new to this ace accounting software we want to ensure you that you have taken the right decision. This write-up, however, will not talk about the benefits or features of Enterprise rather we are going to tell how you can install it on your system. In regards to installing QuickBooks Enterprise, we want to notify you that the steps provided in this post shall only be operated by a skilled system administrator. Basic knowledge of how to install and set-up software is a must.
If you are new to QuickBooks or don't know much about computers, we recommend you to hire a certified expert or talk to the support team to know more.
Points to consider
Before you perform the steps for installing the software, make sure to go through the pointers listed below:
Ascertain that when installing and configuring QuickBooks enterprise accounting software, you do have the system's admin authority.
To avoid messing up with things, you should have a good knowledge of the company financials and also learn the process to set up the company files.
Backup all the company data from the previous software.
If you are using QuickBooks enterprise in multi-user mode, then test the network bandwidth.
Confirm that the network connection is smooth to use the enterprise on every workstation.
You should also configure the firewall for QuickBooks enterprise installation.
You may also like: Install Multiple QuickBooks Desktop Versions on one computer
Installation and Set-up of QuickBooks Desktop Enterprise (Getting started)
Read on to know how you can install and set up QuickBooks Enterprise.
Test your network for security
Install QuickBooks Enterprise
Now, set up multiple user hosting
Configure Enterprise to your business
Step 1: Test Network for Security
To install QuickBooks Enterprise to your system, you are required to have basic knowledge of networking, file sharing, etc. Make sure you create a backup of your company file and other records from your last accounting tool before starting the installation process. There are multiple options through which you can set up your network. We are describing three of the safest options here.
Option 1: Central Server Option for Installation
Use this option to install for installing QuickBooks database manager, which also stores company files.
Option 2: Peer to Peer Option for Installation
This option will install QuickBooks Enterprise on every workstation. In this installation option, one system stores the company file and others access the same on the network.
Option 3: Remote Desktop Services Option for Installation
This option installs QuickBooks Enterprise on a central server. Unlike the other options, Remote Desktop Service doesn't install QuickBooks on workstations. Rather, Remote Desktop Service accesses the application and the company file.
Step 2: Install QuickBooks Desktop Enterprise
When installing QuickBooks Enterprise, you should ensure that the same version of Enterprise is installed on all computers. You can follow the below instructions to install enterprise software on server:
Close all open and running (including anti-virus) program.
Click on the QuickBooks Enterprise downloaded file.
Follow the prompts o the screen until you see the "choose installation type" window.
When you receive three options, choose any.
Follow the instructions on the screen until installation is complete.
You need to decide the type of installation that suits your need. There are two options available for installing QuickBooks: express, or custom and network.
Option 1: Express install
Recommended if you are first time user
Or reinstalling QuickBooks
Or going to use QuickBooks on just one particular system
To carry out express install, follow the steps below:
First of all, select the Express option and then hit Next.
The next step is to select Install.
And then, select open QuickBooks when the process ends.
Option 2: Custom and Network Install
This type of install is recommended if you are installing QuickBooks somewhere other than the default location.
Or hosting the company files on a server.
Or if you are setting up a multi-user network.
In order to carry out custom or network install, the following steps are to be followed:
First of all, select custom and network options, and hit Next.
After that, choose the option that describes how you'll use QuickBooks.
Next step is to select change the install location.
Moving ahead, select the browse option to decide where to put the QuickBooks folder.
Then, select next to begin with the install.
Last step is to select open QuickBooks and you are good to go.
After the installation process is complete, you should configure the QuickBooks database server manager. You can then access the company file stored on the server.
You can read also: How to Fix QuickBooks Scan Manager Could not Be Selected Error?
Step 3: Setup multi-user hosting
Just one system can host multi-user access in a multi-user hosting. You don't have to enable multi-user hosting on the server if you already installed QuickBooks database server manager.
Ensure that in Peer to Peer option – multi-user hosting should be "ON" in server and "OFF" on computer.
In Remote desktop server, multi-user hosting should be "ON" in server and not applicable on the computer.
In Central server, multi-user hosting should be "ON" in server and "OFF" on computer.
Verify if multi-user hosting is enabled on the server:
Access QuickBooks desktop enterprise on the server.
Click "File" and then "Utilities".
Verify that "Stop Hosting Multi- Access" is displayed in the "Utilities".
If it's displayed, follow the below steps: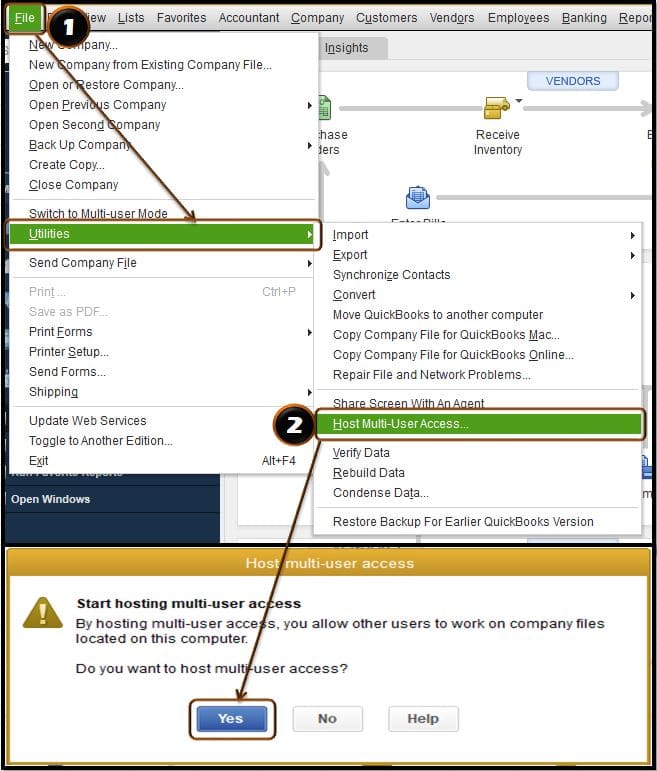 Click "Host Multi-Access".
Hit "Yes" upon being asked to confirm starting multi-user access.
If asked to close and reopen the company file, click "Yes".
Step 4: Setting up the company file and import the existing data
Ensure to work with a financial professional or admin. They will set up the company file, add users, and know what areas of QuickBooks those users can access.
Activating QuickBooks desktop enterprise
Once you are done with installing QuickBooks desktop, then activate it before getting started. QuickBooks will prompt to activate, or activate it using the steps below:
Open QuickBooks
Select activate QuickBooks desktop from the help menu
Verify the info by performing the steps that appear on the screen
Create a company file
You can create a company file that will store all the QuickBooks data. In case you are converting data from another software package, then double check the company file after the conversion, so as to ensure all the financial information is imported to enterprise. You can choose any of the below options, as per the your requirements and the one that suits you the best.
Converting from Quicken
Starting from scratch
Converting from Peachtree
One you are able to create a company file, you simply have to scan it.
Read Also: Fix QuickBooks has Stopped Working or Not Responding Error
Step 5: Configure QuickBooks desktop Enterprise to your business
QuickBooks setup is simple! You just have to follow the onscreen instructions and then click on Start working button.
Quick Start Center: Quick Start Center is used for creating invoices, checks and bills, sales receipts and more. It will also assist you to view customer and vendor account balance.
Review your Chart of Accounts: QuickBooks accounting software created a chart of accounts based as per your business at the time of the setup process. Now you can review it and check it. After that you can edit what you want with ease.
Payroll: If you subscribe for QuickBooks Payroll, you will have to add a year to date payroll details. If you don't do that, your payroll tax information may be inaccurate.
Backup your company file: Backup company file is perhaps the best online service for QuickBooks users. A part of the active subscription, this service is very safe and easy to use.
Winding up!
We hope you are able to install QuickBooks Enterprise following the above-mentioned steps. If you need any doubt or need assistance, you can call our 24×7 QuickBooks Support team.
Related Posts:
Upload Receipts to QuickBooks Desktop Pro Plus, Premier Plus or Enterprise