QuickBooks Point of Sale has garnered unexpected preference in recent years owing to its ease of access and the multifarious features this accounting program has on offer for its users. However, just like its counterpart QuickBooks versions, QB POS is also vulnerable to different types of technical issues arriving every now and then. One such error which we will be focusing on in this blog is "QuickBooks Unexpected Error 5, or the System Code 5 Access Denied error". You may this error when you install the hardware or when opening/running other functions in QuickBooks POS. It appears as:
Status code 5, or
System Error. Code: 5 Access Denied.
This error code has mostly been reported by users when they install the QB POS. Other instances when this issue has been experienced involves the use of specific QuickBooks functionalities, or when trying to open company file via the multi-user mode. This article provides a full in-depth overview of this error, and comprehensively discuss its causes and potential fixes to help to troubleshoot QuickBooks Unexpected Error 5.
Primary Causes behind QuickBooks system error 5
This QuickBooks POS error 5 usually occurs due to any one of the following mentioned factors:
Windows User account not having sufficient rights.
The Shared download location for Point-of-Sale update is not valid.
The company File or Network data (.ND) File have data damage.
QuickBooks folder not having rights to be shared in the Multi-User mode.
An old version of QuickBooks may also trigger Status code 5 error in QuickBooks POS.
You may check also: What to do when QuickBooks can't find company file?
Solutions to Resolve QuickBooks POS Status Code 5 or System Error Code: 5 Access Denied
Users can conform to the following solutions to ensure a complete extermination of this QuickBooks error message 5 out of their systems. These troubleshooting methods are comprehensively discussed below:
Method 1: Update QuickBooks Desktop Point of Sale
The first easy and effective strategy to fixing this problem is to update the program. This is possible in two ways, the Automatic method and the Manual method.
Steps to update QuickBooks POS manually
The manual method involves the following steps:
Start by signing into QB POS as administrator.
There, choose Check for updates, and wait for the results. If any update is available, the same shall appear on the screen.
If the update shows up, hit on Update Now, then click Ok.
Steps to update QuickBooks POS using Automatic method
For this, user needs to first sign in to QB POS as admin.
Then, go for Help menu, then to Software Update.
There, choose updater preference, and then go to General tab.
Click on Automatically download updates. The user can also choose Notify Me option if he/she wants the system to give a notification asking for the user's consent for the update.
Then, hit Ok tab.
Method 2: Turn off User Account Control (UAC) in Windows
To turn off UAC, the steps are:
From Start menu, open Control Panel.
Then go for User Account, followed by going to Change user Account Settings option.
Choose Yes, then move the Slider to Never Notify.
Then, click Ok, and go for a system restart.
This should fix such error in QuickBooks POS encountered during the update process. If the update goes on smoothly, then make sure to Turn on UAC again after the update.
Read Also: How to Fix QuickBooks Cannot Communicate with the Company File Due to Firewall Error?
Method 3: Recreate QuickBooks Company File User
This method requires removing the company file user and then recreating the same. The steps are:
Process to Remove Company file user
Run QB, then move to Company tab, then choose Users.
Now, opt for Set up Users and Roles.
Under Users list, pick the user, then click Delete.
Hit on Yes for the confirmation.
Process to recreate the Company file user
Head to Users and Roles section.
Here, click New, and type in the Username, following by typing in the correct password.
Set roles, then click Ok.
Method 4: Use of QuickBooks File Doctor to resolve company and Network file issues
Using QuickBooks File Doctor Tool can fix System Error. Code: 5 Access Denied in QuickBooks. For this, setting up the QuickBooks Tool Hub program is mandatory. The steps are:
Download QB Tool Hub (from Intuit), then set it up.
Run the tool, then move to Company File Issues section.
There, click on Run QuickBooks File Doctor Tool.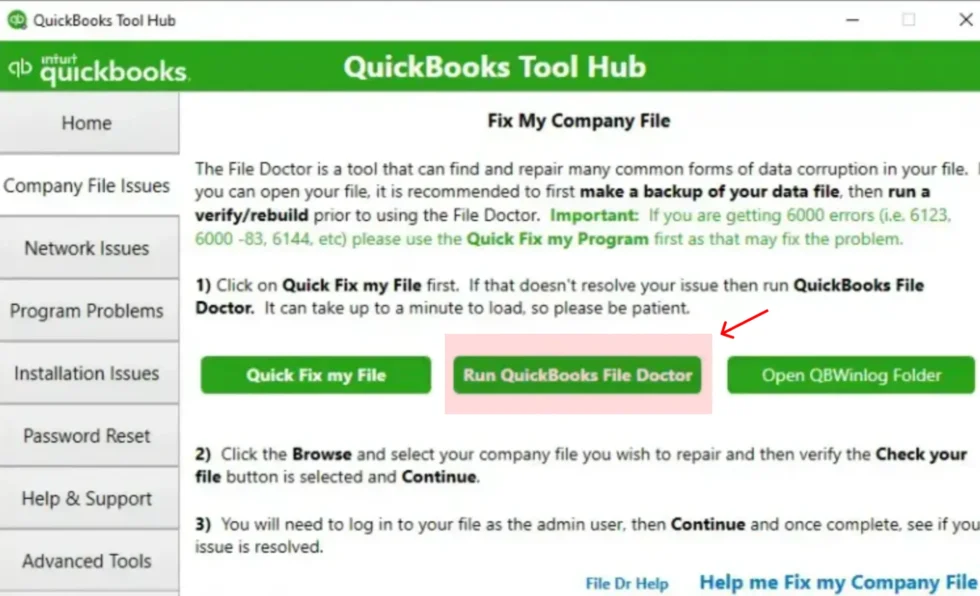 Then, Browse the file and then scan it for issues.
The tool will identify any issues and fix them accordingly.
Check this also: How to Resolve the QuickBooks Payroll Error PS077?
Method 5: Renaming .ND file in QuickBooks folder
If Tool Hub doesn't fix the issue, then renaming the Network Data file can resolve the issue. For this, proceed as below:
Go to QB folder, then look for the file with .ND extension.
Just right-click on it, then rename the file by addition of ".old" in the name.
Now hit a click anywhere to save the new name, then run QuickBooks.
Check if QuickBooks Error 5 Access Denied issue got resolved.
Method 6: Reinstall QuickBooks Desktop (Clean Install QuickBooks)
If no method discussed till now works out, then ultimate resolution is to clean Install QuickBooks. One easy way is to resort to Clean Install Tool in Tool Hub program. Another conventional way is to uninstall QuickBooks in the Control Panel, then get it reinstalled.
Access Control Panel, then Programs and Features.
Pick QuickBooks, then Uninstall/Change.
Click on Uninstall and follow the steps on the screen.
Now, don't forget to rename the QuickBooks folder.
Then go for the reinstallation of QuickBooks.
Wrapping Up!
The blog encapsulated all approaches to resolve QuickBooks Unexpected Error 5, which can also appear as 'Status code 5 or System Error. Code: 5 Access Denied'. If you are having any doubts, unhesitatingly call our QuickBooks error support experts at the helpline i.e., 1-800-615-2347.
More Resources
How to Fix QSW Error: Office Document Customization is Not Available?
Methods to Resolve QuickBooks Desktop Update Error 503
How to Combine Reports from Multiple Company Files in QuickBooks?