Learn how to get back your lost password for QuickBooks Desktop for Windows:
Missed or lost your admin password in QuickBooks, wish to reset it? Well, you have landed at the right page. Here you can learn the step-by-step process to reset the admin password in QuickBooks desktop for Windows and Mac. Accessing the data demands a admin password, and having a strong password can protect your business from unauthorized access. At times you might forget the admin password, and you would then be required to reset the admin password. Here is how this can be done!
Points to keep in mind
Before you head to the process for resetting the admin password, we have got certain pointers for you to consider:
The most important point that you should keep in mind is that the password shouldn't contain any spaces. Also, you are supposed to re-enter the password without spaces, in case any spaces are found.
Moreover, always try to create a complex password. You can take into consideration the instructions which include having at least 7 characters, i.e. letters, numbers, special characters, and at least 1 number and upper case letter.
Another important aspect is that the password might be blank, as a few of the users wish to leave the admin password blank.
You should also keep in mind that your keyboard should be functioning properly, as at times it might happen that you keyboard might not be functioning properly.
One more aspect to be considered is that you might be seeing an incorrect login screen. As a login screen that asks for a password but doesn't ask for a username is the admin login screen and you have a non-admin login, then try closing QuickBooks and reopening it.
Before you head forward, also check if the caps lock is turned on.
Read Also: How to fix QuickBooks Error H101 H202 H203 and H505?
Steps to reset the QuickBooks desktop admin password
Just in case you forgot your password, you can perform some steps and try retrieving your admin password successfully:
For admin password:
You should note that there is no need to enter a username, as when logging in, you only would have to enter a password.
Moreover, your user name will be admin, or other admin user names that you created at the time of creating the admin user,
There can be two scenarios for changing the admin password, either you want to change it for security reasons, or you have forgotten the password.
In case you are not an admin user, then your QuickBooks admin can reset your password for you. You need to contact your admin and have them follow the steps in the "Reset a user password" section below.
Steps for Resetting password for QuickBooks desktop 2020 or later versions
You will first have to login the company login window and select the option stating I forgot my password.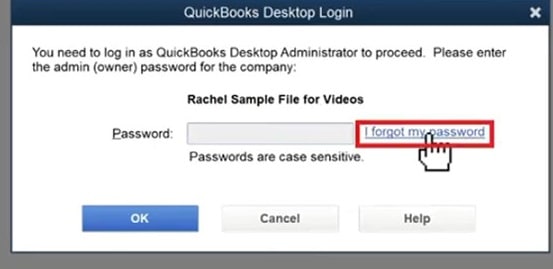 Now, in the drop-down list, go for the next tab and a token will be emailed to reset the password. It should be noted that if you are unable to see the email address, then you are supposed to go for the option stating don't see your email in the list above? And perform the onscreen instructions.
You are then required to insert the token that you received in the email address. You can also check the spam or junk folder, if email is not visible in inbox.
Steps for earlier versions of QuickBooks desktop 2019
If you are using the earlier version, you are supposed to start QuickBooks desktop first. And select I forgot my password.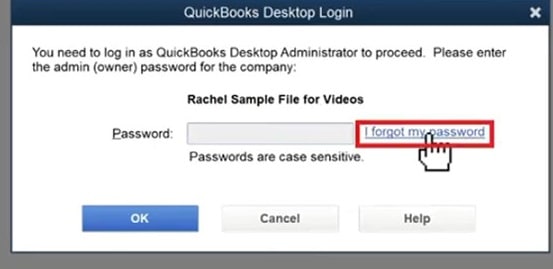 Later on, enter all the information in the form:

The license number of the QuickBooks version that you are using is to be entered, which can be found by pressing F2 key.

Fill in the accurate name, email address, phone number, and ZIP code you formerly used at the time of purchasing the software.
Just in case the information recorded is accurate, then you will get a code on the original email listed in the CAMPS. Moreover, email from Intuit sometimes can be marked as spam, so you can check the spam folder.
QuickBooks will guide you with the process to create a new admin password.
You will now see a screen were you can enter a new password and choose a challenge question for safety purpose.
After creating your new password and entering a challenge question you will be navigate to the login screen.
Now enter your latest created password to login into your account. Here you will another windows where you will see 'Change QuickBooks desktop password' message. You need to fill all the information asking it is and then hit a click on OK tab.
Now you will get a message i.e. "Your password has been changed". Hit on OK to close it.
Important
In a scenario, when the resetting password steps didn't work, then you can perform the below steps:
Cross checking the information that you provided is recommended. Also, we suggest you to verify that the information you catered matches with the info you registered in CAMPS.
You can also go for the automated password reset tool.
You might see also: System requirements for QuickBooks Desktop 2022
Resetting password in QuickBooks Desktop for Mac
Following are the quick steps for resetting your admin passwords if you are a QuickBooks desktop for Mac user:
Steps for QuickBooks desktop Mac 2019 or earlier versions
If you are a QuickBooks desktop mac 2019 user, then you will require a QuickBooks license number for resetting the admin password and also will need an email address, phone number, zip code, and the name that you use to purchase and register the product. You can get all the information in CAMPS website.
You can head to the login page and choose forgot password.
Furthermore, you should enter all the information on the form and hit OK tab.
You will then receive a password reset code or link on the registered email id. Where you can insert the code and click on ok tab.
QuickBooks will cater you with the instructions to create a new admin password.
Steps for resetting admin password in QuickBooks desktop Mac 2020 and later versions
Well, if you are using the Mac 2020 or later versions of QuickBooks, then you would require the following steps:
Start with selecting the lock icon from the password field. Moreover, you will see a pop-up menu listing recovery email address.
Further, you would have to choose an email address that you have access to and hit OK tab.
You will get an email from QuickBooks itself, within a short period of time that would state the further steps for creating new admin password.
Reset a non-admin password in QuickBooks desktop for Mac
These steps are only for limited users. Only the company file admin can reset a password for non-admin users.
Firstly, sign in to the company file as the admin.
After that, from the Company menu, choose Users and Passwords opt.
Furthermore, choose the user you want to change the password, and then choose Edit option.
Now you need to select the lock icon, then enter the new password.
Last step to perform is choose Save.
Also read: How to Resolve QuickBooks Error 1601, 1603 and 1642?
The final words..!
That was all you need to know about resetting admin password in QuickBooks desktop successfully. As always, if you have any query, then you can get in touch with our QuickBooks desktop support team via our toll-free i.e., 1-800-615-2347. Our team will provide you with the best possible information in a single call.
Related Articles:
Enter & Delete Transactions by Batch in QuickBooks Desktop
Install multiple QuickBooks Desktop versions on one computer