Checkout the quick Guide to Set up your Email Service in QuickBooks desktop
Sending transaction via webmail or outlook in QuickBooks, is one of the most important features. You can send invoices, reports, and more, with only a simple set up of email in QuickBooks desktop. In this article, we will be talking about the detailed process to connect email to QuickBooks desktop.
If you are interested in knowing the process, then make sure to scroll through the article. However, before you begin with the steps, make sure to use Outlook 2010 or newer version and also ensure to have an outlook email profile. Moreover, if you are seeking for any technical assistance, then you can contact our team of experts and certified ProAdvisors.
You might also see: Install multiple QuickBooks Desktop versions on one computer
Steps to Set up QuickBooks to Work with QuickBooks
You can simply set up QuickBooks desktop email by carrying out the steps below:
Step 1: Contacting the internet or email provider to get the information below
Username
Password
Incoming email server type
Outgoing email server address
Incoming email server address
Step 2: Setting up Outlook
The first step is to move to the QuickBooks edit menu.
And then select Preferences and then Send forms.
Also, select Outlook and hit OK tab.
Setting up the Secure Webmail to work with QuickBooks
Points to be noted:
Before starting with the process to set up your email service in QuickBooks, you need to note that the newer versions of QuickBooks can use secure webmail. This will create an easier and safer connection to the email.
Also, secure webmail works when you link the Intuit account and the webmail account.
Moreover, once linked, you need not to enter the password every time while sending the email.
QuickBooks versions that work with secure webmail
QuickBooks 2019 and 2020: This version is available for Gmail, yahoo mail, windows mail, Hotmail, and AOL.
QuickBooks 2018: This one is available for Gmail and Hotmail
Important things to know
In case you adds secure webmail to the company file, you are supposed to set up complex password for the file.
Also, hosted environments might need to sign into the webmail while sending emails.
Steps to Set up secure webmail in QuickBooks
In order to set up secure webmail, the below steps should be followed:
First of all, move to the QuickBooks edit menu and choose Preferences.
And then, choose Send forms.
Followed by selecting Web mail and Add options.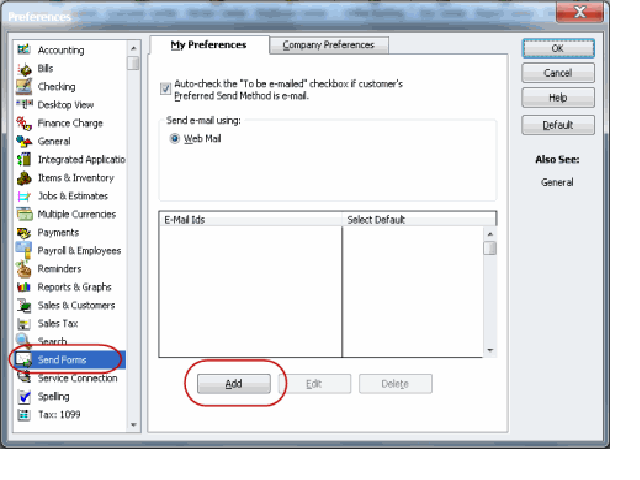 Now, you can select the provider from the drop down and then enter the Email address.
Next step is to select the Use enhanced security checkbox and also select OK tab.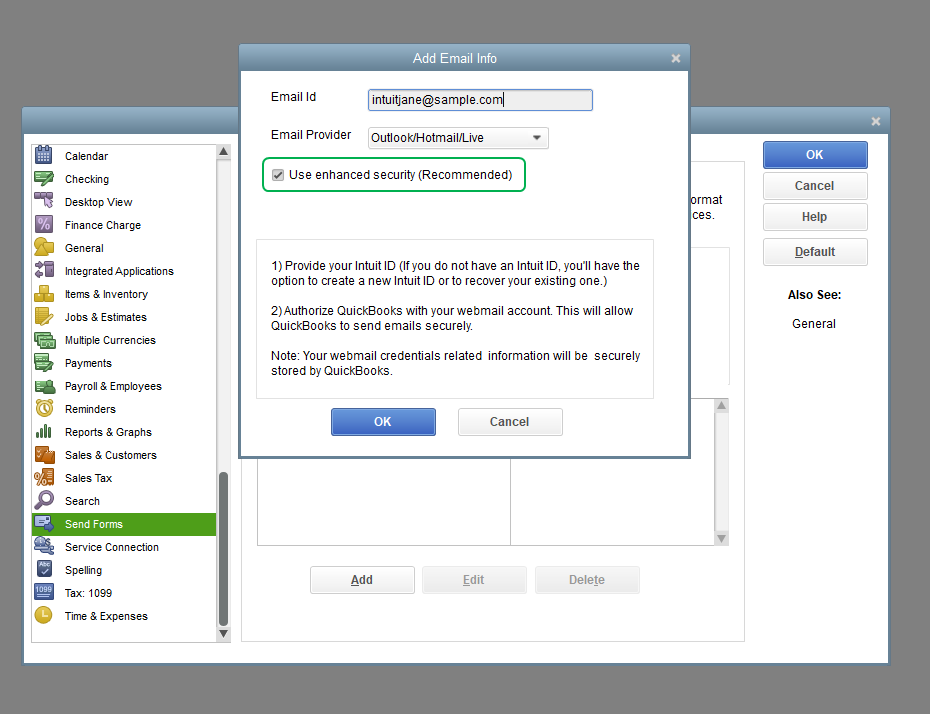 The last step is to Sign in to Intuit account when prompted.
The webmail provider's login page will display. You need to sign in and select to Grant Intuit access.
Also Read: QuickBooks Tool Hub Download, Install & Troubleshoot Issues
Setting up webmail to work with QuickBooks
Important points:
Verifying the webmail servers is a must and also the Port settings with the internet service provider.
Also, the webmail providers need users to enable their account settings for two step verification.
Another important point is that QuickBooks can auto fill information for some of the most common providers.
Set up the webmail
You need to move to the QuickBooks edit menu and choose Preferences.
And then select the Send forms option.
Followed by selecting Web mail and then selecting Add option.
Now, fill out the Add email info and then select OK tab.
The last step is to select OK to save changes.
Things to remember:
QuickBooks will prompt you to enter webmail password for the first time you send an email using webmail.
Also, if the password isn't accepted, you will see QuickBooks will not accept my password for more info on screen.
For QuickBooks desktop for United States
LYCOSsmtp.mail.lycos.com25
ISP (Internet Service Provider)
SMTP Server
SMTP Port
1AND1.com
smtp.1and1.com
587 (SSL enabled, with password)
ADELPHIA
mail.adelphia.net
110
AOL
smtp.aol.com
465 or 587 (see Note) (SSL enabled for incoming and outgoing mail server)
BELL SOUTH
mail.bellsouth.net
110
COMCAST
smtp.comcast.net
587
COMPUSERV
smtp.compuserve.com
smtp.aol.com
110 or 587
COX Business
smarthost.coxmail.com
25
COX CENTRAL
smtp.central.cox.net
25
COX EAST
smtp.east.cox.net
25
COX WEST
smtp.west.cox.net
25
EARTHLINK
smtpauth.earthlink.net
25 (with password)
LYCOS
smtp.mail.lycos.com
25
MICROSOFT OUTLOOK 365
outlook.office365.com
587 (SSL enabled)
NETSCAPE
smtp.isp.netscape.com
25 (SSL enabled)
PRODIGY
smtp.prodigy.net
25 (SSL enabled)
ROADRUNNER
smtp-server.sc.rr.com
587
SPRINT PCS
smtp.sprintpcs.com
25
VERIZON
outgoing.verizon.net
465
VERIZON YAHOO
outgoing.yahoo.verizon.net
465
For QuickBooks desktop Canada Version
| ISP (Internet Service Provider) | SMTP Server | SMTP Port |
| --- | --- | --- |
| MICROSOFT OUTLOOK 365 | outlook.office365.com | 587 (SSL enabled) |
| BELL MAIL | smtphm.sympatico.ca | 25 (or 587 if port 25 does not work) |
| BELLNET | smtpa.bellnet.ca | 25 |
| CLUB INTERNET | smtp.club-internet.fr | 25 |
| COGECO | smtp.cogeco.ca | 465 |
| COMCAST | smtp.comcast.net | 465 |
| EARTHLINK | smtpauth.earthlink.net | 587 |
| GMAIL | smtp.gmail.com | 587 |
| HOTMAIL | smtp.live.com | 587 |
| LAPOSTE | smtp.lineone.net | 25 |
| MAIL | smtp.aol.com | 587 |
| MSN | smtp.live.com | 25 |
| MTS | smtp.mts.net | 25 |
| NETSCAPE | smtp.isp.netscape.com | 25 |
| NETZERO | smtp.netzero.com | 25 |
| NEUF | smtp.neuf.fr | 25 |
| ROGERS | smtp.broadband.rogers.com | 25 |
| SASKTEL | mail.sasktel.net | 25 |
| SHAW | shawmail.cg.shawcable.net | 25 |
| SKYNET | smtp.skynet.be | 25 |
| SYMPATICO | smtphm.sympatico.ca | 25 |
| TELUS | smtp.telus.net | 25 |
| VIDEOTRON | relais.videotron.ca | 25 |
| YAHOO | smtp.mail.yahoo.com | 465 |
Cox users: The standard SMTP setting of Cox isn't to use SSL or login information when sending emails. The QuickBooks prefers SSL connections and requires log in information. Hence, using the port 25 and no SSL connection with SMTP doesn't work with QuickBooks Desktop. The alternative is to use SSL with port 587 or 465.
Connecting email to QuickBooks desktop for Mac
Connecting email to QuickBooks for Mac, allows the user to send invoices, reports, and sales forms directly. Also, you can set up as many email accounts as you wishes to and QuickBooks will remember which email address to use for each type of message. The steps to be followed are:
The initial step is to choose QuickBooks and then select Preferences.
After that select the Email icon.
Also, from Send emails using, you need to select Custom.
In the next step a list will appear, which would be blank if you hasn't added any email accounts to QuickBooks.
Moving ahead, choose + tab to Add new account.
And also, add a name to it, followed by adding the settings from the email provider.
Last step is to repeat for any other accounts and you are good to go.
You can easily spot the email address listed in the from filed of the message, after the setup is process. And you can select any account, in order to send anything.
Read Also: Fix QuickBooks Error 6000: While Opening Company File
Winding Up!
Towards the end of the procedures as well as the article, we believe that you might have successfully connected the email to QuickBooks desktop. The process to set up your email service in QuickBooks Desktop would ease sending invoices, reports, and more.
However, in case of any query or if you need any sort of technical assistance, then we would recommend you to directly get in touch with our Certified ProAdvisors at 1-800-615-2347. Our 24/7 QuickBooks desktop support team will ensure to provide the best possible support services in no time.
More helpful articles:
How to Fix QuickBooks Payroll Error Code 15311?
QuickBooks Install Diagnostic Tool: Fix Installation Errors