Get familiar with the procedure to enter transactions by batch and delete them in QuickBooks Desktop
Are you looking forward to making the best use of QuickBooks for batch entries for invoices, checks, deposits, credit card charges, credit memos, etc? Get answers to all your queries related to how to enter and delete transactions by batch in QuickBooks Desktop, by simply going through this piece of writing. For professional expert assistance, you can directly contact our support team. We comprise a certified pool of professionals who work diligently to resolve customer queries at any moment in time.
Points to Remember before we march forward
Before you start with entering transactions by batch, you are required to consider specific points. Let us together have a look at those points:
The very first thing that you need to remember is to create a backup before performing the steps that we will be discussing later on in this article.
"Copy multiple transactions from one company file to another", if you wish to export transactions from another company file.
Also, remember that, if you have QB desktop accountant 14.0 and the later versions, then you can merely make batch entries of checks, invoices, credit memos, bills, credit card charges, and bill credit.
See Also: Set up firewall and security settings for QuickBooks Desktop
Features of Entering and Deleting transactions by batch in QuickBooks Desktop
Following are the features and benefits of entering and deleting transactions by batch in QuickBooks Desktop:
1. Batch Enter Transactions Feature
The first step is to choose the order in which you want to display the data of columns and from the multiple data fields.
Then, you need to enter the transactions into a personalized data entry grid.
Lastly, paste more than 1000+ transactions from Excel and save them at one place.
2. Batch Delete Transactions Feature
You are required to hide or show transactions having other linked transactions. In all other storing systems, it is generally unattainable to see whether an invoice has a payment attached to it, which makes this better than others.
We can also filter by date range, based on Last Modified Date OR Entered Date (i.e. the original creation date). This is a new filter that we never had access to in QuickBooks.
A cleared column is also great to ensure that you makes the right decision about whether you can actually want to delete or not.
List of Entering and Delete Transactions by Batch in QuickBooks Desktop
Checks
Payees including Customers, Jobs, Vendors, Employees and other names
Sales Tax Payments
Paychecks
Deposits
Credit Card Charges/ Credits
Transactions in a closed period
Inventory Adjustments
General Journal Entries
Bank Transfers
Bills and Bill Credits
Invoices and Credit Memos
Payroll Liability Payments
Down Payments
Read this also: How to Quickly Rectify QuickBooks Error 6155 0?
Steps to enter and delete transactions by batch in QuickBooks Desktop
Follow the below-listed steps to enter and delete transactions by batch in QuickBooks Desktop:
Easy process to Enter Transaction by batch in QuickBooks Desktop
QuickBooks Online Banking Services can save you the data entry time by enabling you to add multiple transactions at a single point in time. We have jotted down the steps that you need to follow:
QuickBooks users can access the "Batch Enter Transactions" from the banking option on the Accountant menu bar.
Hit on the "transaction type" and later tap onto "Transaction Type" and "Account".
After that, access the spreadsheet carrying the transaction you want to record in QuickBooks Desktop.
The next step requires you to classify the columns in the spreadsheet to authenticate the arrangement of columns in the batch transaction screen.
Now, hit the "Ctrl + A" keys and right-click on the screen, and hit the "Copy" option from the drop-down dialogue box appearing on the screen.
The final step is to right-click the first date field and tap on "Paste" in the "Batch Enter Transaction" screen.
Note: The name and the account will show red color, if they are presently not listed in the company file. Click the name or account and then select Quick Add or Set Up.

Unleash the steps to add multiple split lines on my transaction
Split transactions basically allow the users to enhance a single or more secondary split line to a transaction, which can be achieved by following the steps listed below:
The very first thing is to pick the transaction that you wish to add split lines.
In the next step, you need to tap on the "Split" button.
Then moving further, you are required to type the essential details for each split on a separate line.
Now, click "OK" to return to the main "Batch Enter Transaction Screen".
Lastly, repeat this step for each of the transaction with manifold split lines.
Monitor the steps listed below to use the class in QuickBooks Desktop
You can modify your columns to add "Class" by entering batch transaction screen.
In the organization for class to remain allied with an item in a transaction, the item must be selected proceeding to selecting the class.
This also relates to all forms and transaction entries. It should be noted that if a class is chosen earlier to an item, the class will be replaced when the item is chosen.
After that, tap on the "Save transaction" option and again tap on "Yes" on the "Confirm Account" screen.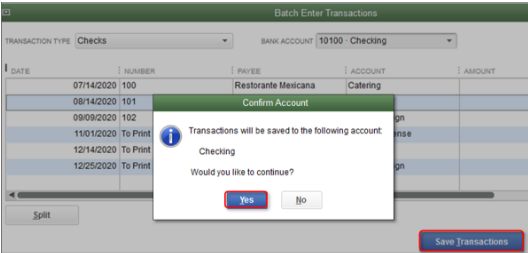 See Also: How to Track your Cash Flow in QuickBooks Desktop?
Step 2: Deleting transaction by batch in QuickBooks
HAving apprised you of the lucid steps to enter transactions by batch, let us now learn the steps to delete transactions by batch in Quickbooks Desktop. Presently, only QuickBooks Premier Accountant, enterprise solutions 16.0 and QB Enterprise Accountant 2016 and the latest versions, possess the aptitude to delete transactions by batch. In this section, we will be discussing the workarounds that the users can use to accomplish the same task.
QuickBooks Premier Accountant, QB Enterprise Solution 18.0, and QB Enterprise Accountant 2018 and newer.
QuickBooks desktop pro or premier 2018, QuickBooks Enterprise Solution 18.0 and earlier:

Tap on "Ctrl + D" ((Edit > Preferences > General > My Preferences) keys to delete more quickly.

You can also do this from the account register.
Next, visit the Intuit Marketplace for a third-party application that can remove the unwanted transactions at once, in case you are attempting to replace all the transactions.
Follow the Steps below to delete the transaction by batch
Initially, find out whether the Single-User mode is applied or not. If you found yourself in Multi-User Mode, then your immediate step is to head to the File Menu > Switch to Single User Mode.
After that, visit the Accountant menu and choose the Batch Delete/ Void transactions.
Now, choose the transactions you want to delete or void from the Available Transactions list.
After that, choose Review & Delete (or Review and Void option).
After performing the above steps, on the review batch, delete (or Void) transactions Screen, tap on the option to Backup and Delete (or Back Up & Void). Note that you can also skip backing up.
On the confirmation window, opt for "Yes" and then proceed.
Lastly, once the transactions are deleted or voided, you will get the option to "View Deleted/ Voided Transaction" Report.
Steps to file a batch invoice
You need to head to the Customers tab and opt for Create Batch Invoice.
Ensure the terms, sales tax rate, and dispatch method are up to date for all customers you send batch invoices to by opting for each customer.
Double-tap the customer and open the additional info tab and change the information needed.
Locate the customers you wish by searching or opting for the billing group.
Hit the next tab.
Choose the desired line item and template.
To enter a custom message, hit the next tab.
Review the list of invoices to be created, and choose create invoice.
Print or email as appropriate and hit the close tab.
Otherwise, the users can also opt for the Intuit Marketplace, in order to install a third-party app, which would assist them in deleting the unwanted transactions in a single take. In case you are considering to eliminate all the transactions, all you need to do is click on the "Remove all transactions using condense data utility feature".
Read Also: Methods to Resolve QuickBooks 'Restore Failed' Error
Wrapping -up!
We end this article, with the hope that the contents gave you a better insight into the topic enter and delete the transactions by batch in QuickBooks Desktop and also a clear view of the facts related to it. The above-discussed procedure might help you in entering and deleting the transactions. If by any chance the above given steps don't work best for you, then feel free to get in touch with the 24X7 QuickBooks Support team, and clear all your clouds of confusion.