Updating QuickBooks Desktop has become an indispensable practice considering the new features that are included in every new update. Users have been entangled into different update errors in QuickBooks, all of which put a complete halt on the update process. In the present discussion our focus would be on QuickBooks Error 1310. This error is pretty different from the Error 15xxx and Error 12xxx series, which also show during the update process. Diving into Error 1310, this error code appears as an illustrative message which states "Error writing to file C:\Config.Msi\5f60cd6.rbf. Verify that you have access to the directory" or "Error writing to file C:\Program Files\Intuit\QuickBooks 2018\BusinessObjectProvider.dll".
Read this full blog to get aware of the various causes that may result in this QB update error, and also get to know the different troubleshooting methods to curb QuickBooks Error code 1310. When encountering such error, you may receive an error message similar to the following:
| Problem | Description |
| --- | --- |
| Error 1310: | Error writing to file C:\Program Files\Intuit\QuickBooks 20xx\BusinessObjectProvider.dll |
| Error 1310: | Error writing to file: C:Config.Msi… |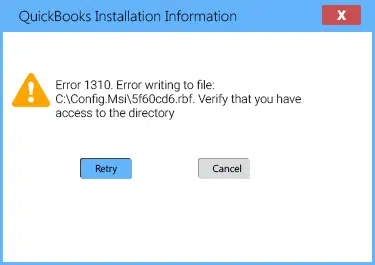 You may also read: How to Fix QuickBooks Payroll is not Calculating Taxes Problem?
Primary causes behind QuickBooks Error 1310 (Writing to File Error)
This error can be frustrating when trying to update or install a new version of QuickBooks Desktop. The following is a list of conspicuous reasons behind this error:
There isn't enough space on the hard disc.
The user does not have sufficient permissions to install or update Windows.
To prevent accidental changes during setup, the installation drive is read-only.
Data on the hard drive is corrupted or has been damaged.
QuickBooks Desktop cannot be installed due to obstruction caused by the antivirus software.
The user does not have authorization to access this folder.
The installer for Microsoft Windows is not licensed.
Firewall has identified the QuickBooks update process as a potential security risk, thereby preventing its installation.
The installation source got damaged.
If you have a poor Internet connection.
You may have an incorrect system date or time.
Some conspicuous symptoms of QuickBooks error message 1310
Some major signs and symptoms of this error are:
An unexpected error message appears and closes the current window.
Due to this error, you might be unable to install the latest version of QuickBooks.
Every once in a while, the computer shuts down completely.
The system recurrently hangs and crashes, especially when performing operations related to QuickBooks.
Basic Prerequisites before fixing Error Code 1310 in QuickBooks desktop
Before embarking on the process to troubleshoot the QuickBooks error code 1310, the following steps need to be adhered to:
Verify that you are logged in as an administrator on Windows.
Restarting Windows in Safe Mode will prevent third-party software from interfering with the installation update.
If installation error 1310 persists, try installing the software in a different directory.
Verify that your hard drive has enough free space to accommodate the QuickBooks setup.
Some other Essential Considerations
Make sure you are logged in as an administrator before attempting any troubleshooting in Windows.
Disable all startup programs or restart Windows in Safe Mode before installing or updating QuickBooks Desktop.
Error 1310 during QuickBooks setup can sometimes be resolved by restarting Windows in Safe Mode.
Make sure your hard drive has enough free space for the installation of the update.
Read it Also: How to Reinstall QuickBooks for Windows Using Clean Install?
Multiple Solutions for Fixing QuickBooks Error Code 1310
Users can follow this section to its end and perform all the troubleshooting instructions keenly to get Error code 1310 (Writing to File Error) rectified.
Method 1: Switch User Account Control (UAC) settings
Verify that you're logged into Windows with an Administrator account.
If it doesn't work, try updating or installing QuickBooks Desktop again once you've restarted your computer.
Turn on User Account Control (UAC) and scroll into Never Notify option.
Now, try updating the accounting program once again.
Method 2: Unregister and reregister MS Windows Installer
There are instances when certain Windows installer files get de-registered due to one or the other reason. This can be detrimental for QuickBooks updates and can potentially incite Error 1310 in QuickBooks, also called the Writing to File Error. The procedure for "deregistering and registering the Windows Installer files" is:
Hit on the Start menu, and in there, access the Run box.
The next step is to unregister the installer by typing "msiexec /unreg" in the Run bar and hit Enter key.
After that, go for the re-registeration by typing "msiexec /regserver" and press Enter key.
When done with these easy steps, run QuickBooks as an admin and retry the update process.
If the error persists, download the update from the website of Intuit (Manual process) and afterwards, get the update downloaded by double-clicking the downloaded .exe file for the update. If this doesn't work, then change the UAC settings (discussed in the next troubleshooting solution).
See it Also: How to Resolve QuickBooks Error Code 80070057?
Method 3: Access the QuickBooks install diagnostic Tool via the Tools Hub program
QuickBooks Tool Hub program has provided a huge respite to users as it has acted as a savior against potential technical issues confronting the QB program. One useful and noteworthy tool which can fix wide range of installation errors, including the Writing to File Error 1310 is the Install Diagnostic Tool.
Download QuickBooks Tool Hub from Intuit.
Set up the tool by double-clicking on the downloaded file, namely, QuickBooksToolHub.exe.
When the setup is finished, the tool hub shortcut will be visible on Windows Desktop.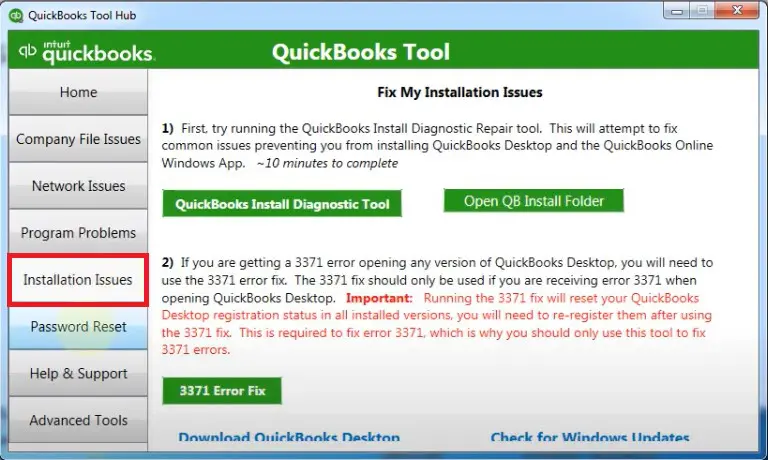 Download the Tool and install it.
Ensure QuickBooks is not running in the background. Subsequently, launch the diagnostic tool.
Restart the computer after the procedure is complete.
Once all the foregoing steps are complied with, try updating QuickBooks again.
Method 4: Repair QuickBooks Desktop
Still facing the Error code 1310 in QuickBooks when updating the program? Try repairing the program from the Control Panel by conforming to the below-mentioned procedure:
Advance to the Start menu, and therein, search for the Control Panel.
In the Control Panel, advance to the Programs and Features tab.
Herein, scroll down through the list to choose QuickBooks Desktop.
Hit on Uninstall/Change and then tap on the Repair option.
Lastly, try to update the program once more time.
Method 5: Utilize the Command Prompt to manually grant full administrator privileges to the installer
Initially, go to Windows Start menu then All Programs and choose Accessories option.
After that right-click on Command Prompt and choose Run as Administrator.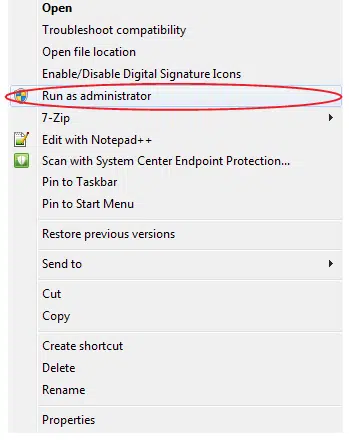 Here you need to type icacls "C:\Config.Msi" /T /C /grant administrators:F.
Note: You also need to change Config.Msi to the folder referenced on the error message you received.
Now hit on Enter key and close the command prompt window.
In last step you need to try to install QuickBooks and check the error is resolved.
Important Points:
We recommend, seek guidance from an IT professional or System Administrator if you're not confident in executing these steps.
When done with this, run QB and try to update the accounting program again.
Check it Also: How to Fix QuickBooks Error Code 80029c4a: Can't Load DLL?
Final Words
We have gone through the various methods to Resolve QuickBooks error 1310. This error can be a major obstructing block on the road to updating the QB program. Although the given methods enumerated in this article should be enough to get this error rectified, if you are still encountering this error, please contact our QuickBooks error support team through our helpline .i.e., 1-800-615-2347.
Related Posts:
How to Fix QuickBooks Error Code 83?
QuickBooks Check Register Will Not Open – How to Fix it?