Learn how to troubleshoot Error 1328 when installing, uninstalling, updating, or repairing QuickBooks desktop:
QuickBooks error code 1328 is often seen when updating, installing, repairing or even uninstalling the QuickBooks desktop software. This error is also seen on the desktop screen in various ways, it can appear with an error message that says:
Error 1328. Error updating file C:\Config.Msi\PTXXX.tmp.

QuickBooks Error 1328. Error updating file C:\Config.Msi\PT19C6.tmp. System error- 1072807676
This is a configuration error and can be seen due to numerous reasons, which we will be talking about later in this article. Thus, if you are interested in finding out the reasons to this error, then reading this article will be of great assistance.
We will also be discussing the quick fixes to the QuickBooks error code 1328. If the users are looking for any kind of technical assistance, then in that case contacting to the support team is suggested.
What leads to QuickBooks error message 1328?
This error is seen due to a handful of reasons. Let us have a look:
You can end up in such an error if there are some download issues with the software.
If the program files are damaged or corrupted.
In case there are issues with the network and connectivity.
The QuickBooks desktop isn't installed properly.
If there are invalid entries in windows operating system.
Read Also: Methods to Move your QuickBooks Desktop file to QuickBooks Online
Methods to fix QuickBooks error code 1328
You can try fixing this error by performing the below methods. Let us have a look:
Method 1: Use QuickBooks install diagnostic tool from tool hub
Common errors can be fixed with the QuickBooks Tool Hub program. To get the best experience, use Tool Hub program in Windows 10, 64-bit version.
Initially, download the QuickBooks Hub latest version (1.5.0.0) on your system. 
Save the file somewhere that you can find it easily.
After that, open the file you you have downloaded named as QuickBooksToolHub.exe.
Open the file you've downloaded (QuickBooksToolHub.exe)
Follow the given instructions on the screen to successfully install and agree to the terms and conditions.
Now double-click on the icon from your Windows desktop after the installation is complete. This will open the tool hub program on your system screen.
Next step is to close all open programs and then run tool hub program.
After that choose Installation issue tab, in the tool hub.
Then choose QuickBooks Install diagnostic Tool tab,
The diagnostic tool will open and find the damaged file and try to fix it (This process can take up to 20 minutes)
Once the process gets complete, you should restart the system after running the tool to ensure the components re installed and updated properly.
Method 2: Perform a Clean installation
You should uninstall your QuickBooks desktop.
And then, clean install the QuickBooks software.
Next step is to select one of the options that appear on the screen.
The first option is to make install process of QuickBooks as directly from the installation CD drive.
Whereas, the second one can also be installed QuickBooks using downloaded file.
It should be noted that directly installed QuickBooks software from a CD is a little easy.
Download or simply install QuickBooks program using a manual guide.
Method 3: Spot the config.msi file
At first, you should right click the Start tab and then select explore.
Once done with that, you should double click the C drive.
After that, you will see all the hidden files and folders.
Next step is to click on the tools tab and also select folder.
You should then click to View the tab option and also choose all hidden files as well as folders.
And then, click to apply all changes and press ok tab.
Next step is to operate all needed system files.
Also, right click the config.msi and also choose rename tab.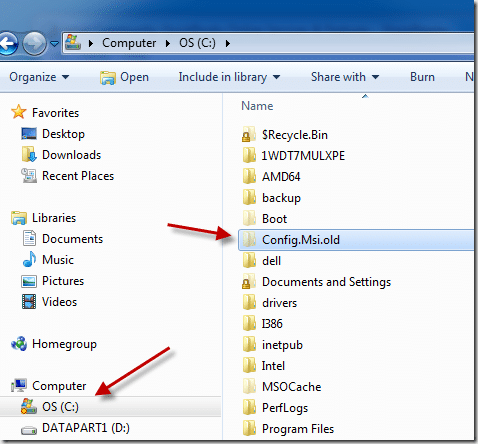 Add old to the file name and hit enter tab.
This will hide and protect the operating system files including all needed hidden files and folders again on the system.
Method 4: Using the registry repair tool
In this process, you should first apply any registry repair tool and also repair the damaged registry entries that related to QuickBooks.
Next step is to use malware removal tool and fix any type of malware infectious attack from the system and get rid of all malware attack from the system.
You should then remove all unwanted or junk files.
After that, you should uninstall all the outdated PC device drivers.
And also restore by doing undo through recent system changes.
Uninstall and reinstall QuickBooks desktop.
Run windows system file check and scan the process.
Install all essential windows updates.
Method 5: Rename the C:\Config.MSU\PTFB53.tmp File "Microsoft Install Error: Error, 1328"
When a user downloads the latest QuickBooks updates, they receive the following error message: "error 1328 followed with error 2350″: FDI host". This error also occurs when a user attempts to update to the latest QuickBooks Point of Sale version V18 or V12, but the upgrade is not installed or failed. "C:\Config.Msu\PTFB53.tmp. It's probably been updated by other methods, and it can no more longer to modified by this patch"
You can rename the file, if you encounter an error while updating Point-of-sale v18 or v12 to the most recent release (r4 or r14).
At first, you can rename the file C:\Config.MSU\PTFB53.tmp then reinstall the patch.
You can do a clean reinstalling on Point of Sale and then apply or update the patch one more time.
This error is also known by FDI server error. It occurs when an update installer encounters a file with a different QuickBooks desktop version than expected. This error can be avoided by clicking the ignore button at least 4 times.
Method 6: Install or uninstall QuickBooks in Selective startup
Switch to Selective startup mode to ensure that no other applications are preventing you from completing your task. If you are unsure how to do the steps, contact your It person or a Windows expert.
To open the Run command, use your keyboard to press Windows+ R keys.
After that type and enter msconfig command and then hit a click on OK.
Next, you can choose Selective Startup or Load System Services from the General Tab.
And then hit a click on the Services tab and then choose Hide All Microsoft Services.
Now choose Disable all option.
Afterwards, un-check the Hide All Microsoft Services checkout box.
Now check that the Windows Installer option is selected in the list. Select the checkbox if it isn't selected.
Choose OK button.
Lastly, choose Restart from the System Configuration window.
Method 7: Update your Windows OS
Microsoft .Net Windows components, C++ and MSXML are necessary components to support the operation of QuickBooks software. It is recommended that you update the Windows operating system time to time to avoid software issues that you are using for your business. These steps will assist you in this process.
First, hot a click on the Start menu, then in the search box type Windows update.
The screen will display a windows updates icon. Double click on it.
Now hit a click on the Check for Updates option.
If the system has been updated automatically, there will not be any list of possible options will appear. If a list of programs appears, you can choose it to update.
Now finally you will need to restart your computer again and verify that the error is gone you were facing before.
Read Also: How to Install multiple QuickBooks Desktop versions on one computer?
Summing up!
Fixing QuickBooks update error 1328 isn't that difficult as it seems to be, once the above discussed steps are implemented. However, if you are still doubtful or is unable to deal with the error code, then it is recommended to contact our 24/7 QuickBooks error support team at 1-800-615-2347, and let our certified experts to tackle out the issue permanently.
Suggested Reads:
How to troubleshoot the QuickBooks Payroll Error 15215?
Steps to fix Cannot open company receive error code 6155 in QuickBooks