A Guide to resolve data damage of QuickBooks Desktop
Data damage is one of the critical issues that QuickBooks users may face. It may cause you to miss out your deadlines and also lose some vital company details. If you think that you have data issues with your QuickBooks company files, this blog post may assist you to fix a majority of these issues. If you don't want to waste your valuable time and efforts while performing the below given technical solutions then you can take help from our dedicated U.S based support team. We are Certified ProAdvisor and available round the clock to help you.
Read Also: What to do When QuickBooks File Doctor Crashes or Not Working?
How to identify data damage in QuickBooks desktop Company file?
If you encounters an error like data issues, that hinders QuickBooks from continuing in the verify data utility or verify target, if the values in minor do not match the screen or the QBwin.log file.
Also, sudden or abrupt shutdown of QuickBooks, when trying to save or remove a transaction.
Any transactions are missing from the list.
The paid bills and invoices are reflected as unpaid.
If the transactions history shows a negative balance.
QuickBooks is slow and the operations performed are consuming time than usual to finish.
Why data damage occurs in QuickBooks?
File size expanded beyond the recommended healthy limit.
Lack of resources, like RAM, network cables etc.
The system shuts down due to technical glitches in the mid of the process.
Trojan malware attack
Sudden power surge or drop ending in trashing the entire hard drive leading to such an error
Preventive actions
Before you head to the steps, there are certain actions you need to take:
Choose a hard wired network over wireless: This is suggested, as in case you make use of a wireless network, it might enhance the risk of dropped connections, which in turn create issues with the data file. These issues can be avoided by opting for a hard wired network
Create a backup within QuickBooks: Often the files are automatically backed up in QuickBooks, which helps a lot. However, when the log file is created and continues to increase in size, the performance starts getting hampered and this increase the risk of data corruption unless you take the backup. This backup file is later used by Intuit for data recovery.
Check the file size: QuickBooks pro and premier users can opt for 250 MB file. When the file size reaches 500 MB, it might turn down to sluggish performance. The QuickBooks enterprise users can select 500 MB. When this file reaches 750MB, it might start creating issues.
Update patches: You can check the release number in the first line of the product information window. Use the latest patch might not create such an issue later.
Keep a check on the database file fragments monthly: You can end up in fragmentation, if the system gets filled up with the data over-time. In case you are putting in the data without carrying out a cleanup in it.
Fix data damage on your QuickBooks desktop company file
There are only two ways to resolve the data damages on your QuickBooks company file.
Run the Rebuild Utility
Run the Verify Utility
Step 1: Rebuild data utility
Rebuild data utility is a useful tool you will have to run first to start with troubleshooting data damage on your QuickBooks file.
Open the 'File menu' and select 'Utilities and Rebuild Data'.
After the QuickBooks Information window pops up, click 'OK'. Save a backup by simply following the prompts. (Important: Don't be confused if your computer displays that QuickBooks is not responding. If your mouse cursor is moving, the 'Rebuilding process' is on. Wait patiently and allow the process to finish.)
After your computer displays to you that Rebuild has completed, select 'OK'.
Step 2: Verify data utility
Run the 'Verify data utility', which is the next step to fix data damage on your QuickBooks file.
Open the 'File menu' and select 'Utilities and Verify Data'.
If QuickBooks detects no issues with your data, click 'OK'. You may keep on using your company file.
If any issues are spotted with your data, you will receive a prompt to 'Rebuild Now' or 'View Errors'. Click 'Close' and you will have two options to choose from:
Review Last Verify/Rebuild
Press 'F2' or 'Ctrl+1' on your keyboard and the 'Product Information' window will open on your computer screen.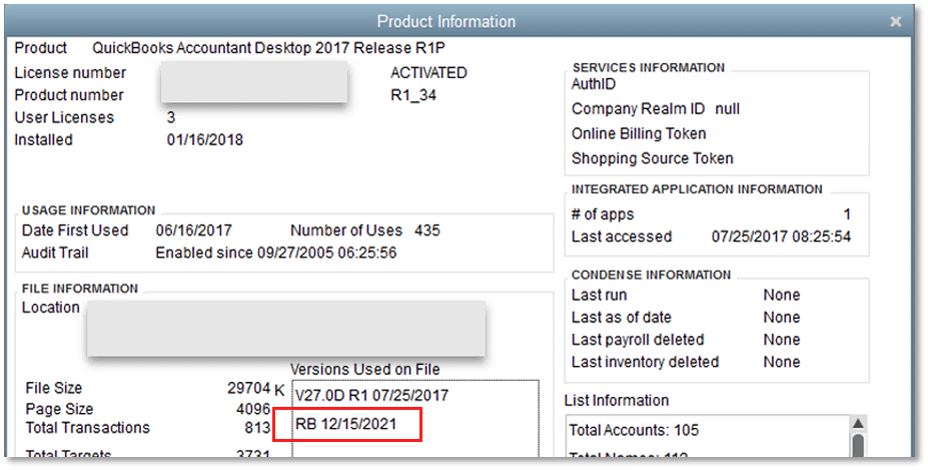 Select 'Review Last Verify/Rebuild'.
Check the results screen for errors.
ReviewQBWin.log
Do you know how to review the QBWin.log or the QuickBooks.log file? If your answer is yes, you can follow the given steps. (It's recommended to contact a certified expert or our support for additional help in case you are not comfortable doing that on your own).
Find 'QBWin.log' or 'QuickBooks.log' files. (In case you seeking the help of a support agent, Press 'F2' followed by 'F3' to open the 'Tech Help' window. Once you are at 'Open File tab', click the log file once and click send log files to Intuit support. This process will forward the file to a repository and will finally allow the support agent to check your log files.
Check the log file.

Windows: Type Begin Verify in the search box (Ctrl+F keys) and spot the most recent file (it would be simple as logs are written in date order with the latest at the bottom).
Mac: Go to the bottom to find the most recent Verify information.

Find 'LVL_ERROR', copy the complete line and then search it on Inuit's support site. (Note: Errors within MS Windows as well as Mac log files may differ slightly. However, they are displayed in the same format.)
You might also like: Fix QuickBooks Error 6150, -1006 like a pro
Step 3: Repair your company file using QuickBooks File Doctor
Firstly, close your QuickBooks desktop.
Save the file on your desktop.
Once the downloaded process complete, open the QuickBooksToolHub.exe file.
Follow the on-screen steps to install and agree to the terms and conditions.
Hit double-click on the icon to open the QuickBooks tool hub program.
It can take up to one minute for the file doctor to open.
Next, select your company file from the drop-down menu in QuickBooks File Doctor.
In case you don't see your file, choose Browse and search to find your file.
Now hit a click on Check your file and then click on Continue.
Now finally put your QuickBooks admin password and then select Next tab.
Fixing data damage solutions for QuickBooks desktop for Mac
Use the verify tool in QuickBooks for Mac for scan the company file for errors or damage.
Select the file and choose utilities tab.
You now have to select verify data, and select ok tab to close all windows.
In case you see your data has failed the integrity check, then you need to rebuild the file.
If there are no issues with the data, then you are done with the process.
Steps for rebuilding the company file data
Select the file and also select utilities.
Furthermore, select rebuild data and select ok tab to close all windows.
QuickBooks will ask to make a backup before rebuilding the company file and select ok tab. In case you don't want to backup, then select cancel option to continue rebuilding the company file.

In case you haven't set up any backup preferences, QuickBooks will ask to update them. Select the backup preferences and edit as required and click on ok tab.
After the backup is finished, then select show in finder to locate the backup or choose ok tab.

Click on ok tab and rebuild in finished.
Finalizing up!
We hope that you are able to fix your QuickBooks data damage issues by after reading this post. In case the issue persists even after trying the troubleshooting steps in this post, you can contact our QuickBooks error support team. We offer quick and precise solutions related to all accounting related issues and are reachable round the clock.
More helpful posts:
How to Resolve the Error 350 in QuickBooks Online?