Want to learn the procedure to open qbw file without using QuickBooks desktop? Here is a complete guide for you. This piece of writing is going to brief you about the complete set of steps that can be performed to successfully open QBW, QBB and QBX Files without opening QuickBooks desktop. QBW is basically a kind of format under which the QuickBooks data file is stored with .qbw file extension. These files save financial data, templates, letters, logos, and images. It is possible to open the qbw file without even opening QuickBooks.
You are suggested to go through this piece of writing to successfully perform the procedure. Just in case you require any sort of tech support to perform this procedure, then feel free to connect with our tech professionals using our helpline.
What makes file extensions essential in QuickBooks?
The extensions permit you to quickly look for the nature of the file and its contents.
Another perk can be that it provides a simple method of keeping all the files.
Having file extensions are best in terms of security purposes.
Moreover, it becomes easy with extensions to spot all sorts of documents by looking at the filename.
What do you understand by the term, QBW File Extension?
QBW (QuickBooks for Windows) is a kind of format under which the QuickBooks Data File is stored with .QBW File extension. These QBW Files usually save financial data, templates, letters, logos, and images. They also include QuickBooks Financial statement designer, cash flow projector, business planner, and loan manager. Hence, QBW Files consist of important and sensitive data therefore, it is important to have a reserve.
Index of File Extensions used in QuickBooks Desktop
There are the lists of file extensions which are given below –
Accountant files
QuickBooks working files
Fixed Assets Manager
Log and utility files
Payroll files
You may also see: How to Track your Cash Flow in QuickBooks Desktop?
Steps to open the qbw file without using QuickBooks desktop
You can perform the below stated set of steps to successfully open qbw file without using QuickBooks desktop.
Start off the procedure by clicking on start tab.
Tap on all programs tab.
When you see a list on the screen, scroll down and choose intuit option.
Access the folder and go for QuickBooks option.
Pick the company file that is to be exported from QuickBooks.
Click on open option.
Type in the password if asked to.
Agree on customer, vendors, or employees list. These options can be seen at the top of the screen.
Click on customer center.
QBW can be easily imported to an excel report.
Take the excel option at the top.
Select export excel.
Click on export after saving the file.
Open the imported file.
This will need excel version 2010 or later.
Adopt the current version of excel to access the QBW files without using QuickBooks.
Click on data tab.
Click on the other resources tab.
Look for the qbw file in windows.
If you are unable to, then look for the file separately.
Click on new qbw file that will open up directly.
Steps to perform for converting QBX file
You can simply open the qbw file by converting it.
Open QuickBooks file.
Head to the file menu and select the send company file.
Opt for the accountant's copy.
Select convert accountant's copy to company file/qbw.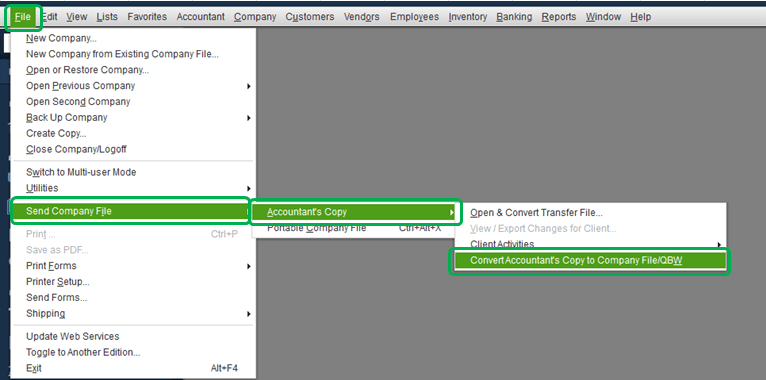 Hit ok tab.
Select location where you wish to save the file.
Tap on the save tab.
End the procedure by clicking on OK tab.
See Also: Steps to Resolve QuickBooks Error 1601, 1603 and 1642
Conclusive lines!
Once you perform the above set of steps, it becomes a cake walk for you to open qbw file without using QuickBooks desktop. However, if a scenario occurs, and you aren't able to open the file or you are stuck at any point of time, then in that case, do not hesitate in contacting our QuickBooks desktop support team by dialing 1-800-615-2347.
Related Articles:
Fix data damage on your QuickBooks Desktop company file
Setup, Install and Update QuickBooks Database Server Manager