A Quick user guide to get started with QuickBooks Web Connector Error QBWC1085 or Exception TypeError: Unknown name
A QuickBooks Web Connector powered by Microsoft Windows is a liaison tool to connect all your data files on the online-based applications to the offline QuickBooks products downloaded on your personal desktop. The QuickBooks Web Connector, technically, helps exchange qbXMl and qbposXML data files to and from your online application and the QuickBooks point of sale desktop application. QuickBooks should be connected to the same device where the QuickBooks desktop product like QuickBooks enterprise solutions, Point of sale, etc., is downloaded and running to successfully initiate the integration of the dataset to analyze and make common organizational goals.
Though, when you have not taken care of proper installation or missed a step, you might get a QuickBooks Web Connector Error 1085. Also, you may get this error at the time of opening QuickBooks enterprise solutions or when you start your computer. There is no need to worry for the same because in this article, we have discussed the possible causes and the quick solutions for this error
Read Also: Install QuickBooks Database Server Manager
Web Connector Errors: Either it's QBWC1085 or Exception TypeError
In case you try to use QuickBooks Enterprise solution on your desktop, these following errors may occur and render you confuse or worried.
QBWC1085: QuickBooks was unable to write to the log file. QuickBooks will open without writing to log file.
QBWC1085: There was a problem with the log file. QuickBooks Web Connector will continue without the log file.
Exception TypeError: Unknown name
Mostly, the TypeError is also detected due to the distortion or disruption of the data log file, QWCLOG.TXT, which was originally mean to be used by the QuickBooks Web Connector to integrate the data. This error occurs when the QWCLOG.TXT file used by the Web Connector program becomes damaged or it cannot be accessed.
Some other common Web Connector errors are as:
| | |
| --- | --- |
| QBWC1005: QuickBooks Web Connector failed to run | QBWC1006: QuickBooks Web Connector failed to run |
| QBWC1007, 1008 or 1009: An error occurred when connecting to QuickBooks | QBWC1011: Application named [AppName] does not exist in registry |
| QBWC1016: No application was selected for update | QBWC1018: No application available to select at this time |
| QBWC1085: QuickBooks was unable to write to the log file. QuickBooks will open without writing to log file | QBWC1020: There are scheduled jobs. Web Connector will not be able to run these jobs if you exit |
| QBWC1022, 1023, or 1024: An error occurred when connecting to QuickBooks | QBWC1030: Password is not available for application |
| QBWC1035: Dns.Resolve(localhost) failed due to Exception | QBWC1033: QB web connector failed to initialize QWCLog.txt file and will not run |
| QBWC1032: Could not find application [AppName] in registry to complete scheduled update | QBWC1037: Application sent following error or warning message when checking version of QB web connector. Update aborted. |
| QBWC1038: User canceled from master key input. Need master key to continue | QBWC1040: Web Connector did not provide a valid username and/or password |
| QBWC1048: QuickBooks Web Connector could not verify the web application server certificate | QBWC1019: No application available to un-select at this time |
| QuickBooks found an error when parsing the provided XML text stream | |
Signs and Symptoms of QuickBooks Error QBWC1085
There can be numerous signs and symptoms of QuickBooks web connector error QBWC1085 that can help you to identify the error. A few of these signs are listed below:
In case the functions of web connector program are not working accordingly.
If, the QuickBooks accounting software is not functioning properly.
In case the QuickBooks software gets freezes for sometime.
If you are not getting any response from the windows, then this kind of issue could be seen.
What can drag you to QuickBooks web connector error QBWC1085 ?
One of the most common factor can be when the QBWCLOG.TXT file of the web connector is damaged.
Another reason can be if there is any kind of damage to the components of QB web connector.
Moreover, if you are unable to access the QBWCLOG.TXT file on the web connector.
You can also experience similar issue if you didn't connect to the third party program with QuickBooks .
Solutions to QuickBooks Web Connector Error QBWC1085 Error or Exception TypeError
The purpose of the QuickBooks Web Connector is to share the log files between the third-party applications on the internet to the QuickBooks products on the desktop as we have explained above. But, in case you have not at all connected the QuickBooks desktop product with your third-party application before using the QuickBooks Web Connector, then obviously, it wouldn't work. Check out the measures that can be taken to rectify the QBWC1085 issue:
Solution 1: Rename the QWCBLOG.TXT file as a solution to the TypeError
Initially, you need to open the taskbar and right click the QuickBooks web connector icon.
Furthermore click on exit tab.
You now have to open the windows file manager.
Head over to this path: 'C:\ProgramData\Intuit\QBWebConnector\log folder.
You now are supposed to right click on the QWCLOG.TXT file and also choose the rename tab.
Moving ahead, you need to change the name to QWCLOGOLD.TXT and click on save tab.
Restart the web connector program.
Conclude the process by rebooting the system and also reopening the software.
Solution 2: Eliminate web connector from the startup menu
Under this particular method, you are supposed to login on the system as the windows admin.
Navigate to the command C:\Progam Data\Microsoft \Windows\ Start Menu\ Program \ Start Up
For windows XP: You are supposed to follow the path: Documents and settings\All users\ Start Menu\ Program \ Start Up
Move ahead in the process by deleting the QuickBooks web connector file.
And restart the system and open QuickBooks.
Solution 3: Connect the company file to third party program
You need to first click on windows + R keys.
You will now see the run window on the screen.
Type in MSConfig and also click on ok tab.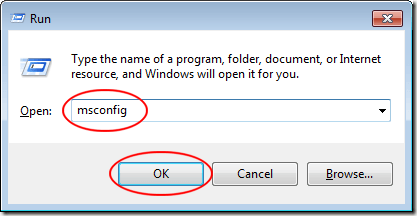 Click on startup tab.
Mark the checkbox for QuickBooks web connector.
Click on apply option and click on ok tab.
Sum up the process by restarting the system.
Solution 4: Renaming the web connector fie QWCLOG.TXT file manually
You are supposed to go for this option only when your company file was connected with the third-party application via web connector.
Later on close all the QuickBooks Desktop session along with 'QuickBooks Web Connector'. It shouldn't be running in the background. [If you are unsure if they are properly closed or not, open the task manager and end the tasks for both the applications to be on the safe side]
You now have to head to the C://ProgramData/Intuit and also choose QBWebConnector on the next screen.
Furthermore click on log and also the rename the QWCLOG.TXT to QWCLOGOLD.TXT.
Reopen the web connector
Reboot the system.
Read Also: Resolve data damage on your QuickBooks company file
To Conclude!!
Your problem must have been resolved by following the above mentioned solutions. Though, for a better implementation, you need to restart your device and then use QuickBooks desktop by connecting it to your third-party online application for a successful exchange of files and data head. We hope this was a quick walk-through for your QuickBooks Web Connector error QBWC1085. You can also contact our QuickBooks enterprise error support team if the issue persists.
More recommended topics;
How to Fix your Beginning Balance in QuickBooks Desktop?
Download and Install QuickBooks Tool Hub to Fix Common Errors