Here is what you can do when signing into QuickBooks online on google chrome fails
QuickBooks Online is a top-rated web based accounting software. The software enables users to create and send invoices, manage expenses, and prepare for taxes. If you are a user of this software, you might be familiar of errors and glitches may appear at any time while operating the software. In this blog post, we are going to discuss QuickBooks online (QBO) login problems with chrome.
There are multiple reasons behind the occurrences of this issue. In order to resolve these login errors you may take help from our online support team by connecting with professionals using dedicated helpline.
Most of the times you face you are not able to login in QuickBooks Online (QBO) due to the security enhancements set by Intuit. To resolve this issue your account needs to be updated to a new Intuit account with enhanced security. When you face login issue in your chrome browser you may see the following error message on your desktop screen:
[WebPage cannot be found, Error 404: File Not Found, OR [QBO is currently unavailable, please try again later]?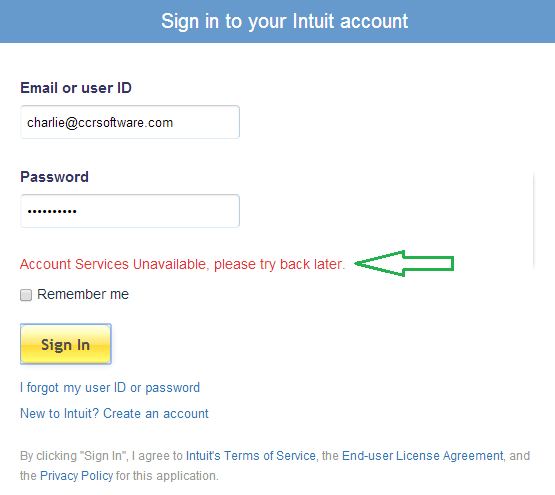 See also: What are the steps to solve QuickBooks error 15106?
QuickBooks online login issues on Chrome
Google Chrome is a popular web browser and appropriate for the accounting software. Sometimes, issues may appear while attempting to login to QuickBooks online in Chrome. The login issues may be of different types.
Your computer screen displays a "loading" message on your web browser but nothing loads up.
An error message "the services are not available" may appear on your screen.
The sign-in screen and screen to choose my company may show up in a loop.
What causes Intuit QBO login problems?
The list of causes is not huge, a few factors in general affect the QuickBooks login on chrome. These factors include the following:
If you haven't signed out properly from the previous session.
If someone has logged in QuickBooks online from a different system or location with the same sign-in credentials, then this type of issue could be seen.
Another reason behind the occurrence of any such issue can be some firewall or antivirus blocking the access.
Antivirus and other firewall applications are blocking you from accessing the QuickBooks online.
If old history or cache is slowing down the performance of Google chrome.
Solutions to fix QuickBooks Online (QBO) Login Problems for Chrome
Check out the following easy troubleshooting steps to fix QuickBooks online Google Chrome login issues:
Method 1: Use Chrome Browser in Incognito window
If you face login issue with Chrome, you can try logging to QuickBooks in incognito mode in Chrome. When you use Chrome in incognito mode, you can browse the internet without being recorded and your online activities don't show in history either. Also, using QuickBooks Online on Chrome in incognito mode is as simple as using it in normal mode.
Here is how you can use Chrome in Incognito or private mode:
Once a Google Chrome window is up on your screen, click on "Customize and Control Google Chrome" (three dots at the top right-hand corner) and select New incognito window, which is the third option.
You can also use short cut keys – "Ctrl+Shift+N" keys.
When chrome opens in "Incognito mode" You will be able to see "Incognito" on the top right-hand corner.
Method 2: Clear history and cache
If the issue persists even after using QuickBooks Online in incognito mode, you can try this step. The login issue may also be caused by old history or cache as they may slow down the performance of Google Chrome when you try to open QuickBooks accounting software. Clearing history or cache can help you fix the login issue.
Click on "Customize and Control" Google Chrome icon on top right and select "Settings".
Select the "History tab" on the left and click on the "Clear browsing data" button.
When you click on "Clear browsing history", several boxes will appear on the screen.
Choose the appropriate box and clear everything, including cookies, cached images and files and other site and plug-in data.
Read also: Enter or delete transactions by batch in QuickBooks
Method 3: Create the additional Chrome User
You can also get rid of the login issue by creating the additional chrome user to use QuickBooks Online. Here is how you can create an additional chrome use:
Open Chrome web browser and select the "Settings tab" on the left.
Find "Users" section at the bottom of the page.
Click the "Add new user-box".
Select an icon, type a name, leave the create a desktop shortcut and click on the "Create" button.
The "New user" icon will appear on the top left corner of your web browser. Click on it if you want to switch between different users.
Method 4: Use a different web browser
If you still face an issue in logging to QuickBooks Online in Google Chrome, try using a different browser. See if you have Internet Explorer or Firefox. You can also download them from the internet for free.
Method 5: Verifying Google SSO
SSO basically means Single sign on. In one of the updates of Google and QuickBooks, it stated that the QuickBooks users using iPhone and iPad that will not be permitted to login to QuickBooks online app using Google account. The iOS mobile users can use Google account for the login process. Thus, if in case you are using iPhone and trying to sign in to QBO with the google account, then avoid wasting your time in doing that. You can use Intuit account credential for login process. Put the user ID and password and login to QuickBooks online using the Intuit account.
Also read: Resolve QuickBooks crash com error while mailing Invoices
Advanced Steps to rectify QuickBooks Login issues with Chrome
Checkout the latest solution steps to resolve the QuickBooks online login problems.
Step 1: Checking the SSL setting of Internet Explorer and Mozilla Firefox
Fox Internet Explorer
You need to press the "Windows + R" tab, and then type "inceptl.cpl", followed by selecting the "OK" tab.
Now, open up the "Advanced tab", and then scroll down to the "security" option.
Moving ahead, you need to mark both "SSL 2.0 and SSL 3.0" turned on by check-marking then and then pressing "OK" button.
The last step is to "open the browser" and then "sign in" at "https://qbo.intuit.com"
For Mozilla Firefox
First of all, open the "Mozilla Firefox".
And then, type in "config" in the address bar and then hit "Enter".
In the search bar, you need to type "tls".
Followed by, double clicking the "tls.version.min" from the shown preference names.
Then, you need to type the "integer value" according to the TLS/SSL version you wishes to enable.
Moving ahead, hit "OK" tab.
And the final step is to "close the browser" and open it once again.
Step 2: Check and Change some Additional Privacy Settings
First of all, the "privacy settings" must be set "medium" or "lower".
Then, manually "allow access" to "https://qbo.intuit.com".
And after that "enable cookies".
The last step is to close all the browsers and try to sign in again.
Read Also: What is QuickBooks auto data recovery?
Summing up!
We hope that this blog post helps you to login to QuickBooks on Google Chrome. If not being able to login to QuickBooks Online on Chrome can be frustrating and delay your work. You may also check the web browser's setting if the issue occurs while logging to QuickBooks. However, In case nothing works, you can contact with us and speak to our QuickBooks online error support experts. We boast cutting edge tools and experienced experts and ensure that any issue that you might be facing is explained and fixed.
You may also like:
What is QuickBooks connection diagnostic tool?