Learn to Access QuickBooks Remotely Anytime from Any Location
The current state of businesses and markets has brought down everyone to their knees. The financial conditions of most businesses are not at their epitome. Moreover, people are struggling to find jobs and businesses are struggling to find employees. The major impediment that has hit the corporate sector lately is social distancing, brought about by the Covid-19 pandemic.
Going to the office is now no less than a scary event. In such cases, everybody is opting to work from home. But how do you ensure smooth workflow without the correct software? QuickBooks software has proven to be the most reliable software for accounting and managing finances. Now, there is a need to make those monetary adjustments sitting at home. Hence, the main reason to create this blog is to let you know how you can also access QuickBooks desktop remotely with no hiccups in between.
You may see: Steps to Export your QuickBooks Desktop File to QuickBooks Online
Need for QuickBooks Desktop Remote Access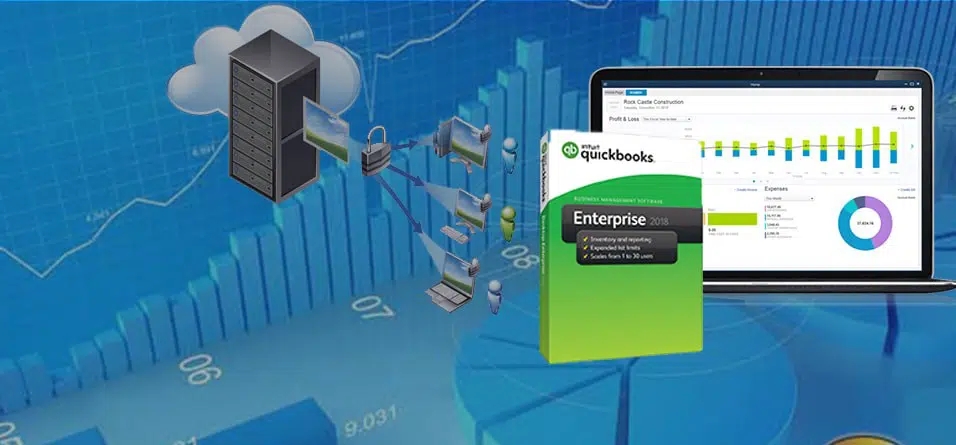 With QuickBooks remote access you can now work from anywhere. The system allows access to the work systems as long as there is an active internet connection. Now you get to be included in the email, the documents shared, and other workplace programs from home. Another best thing about this software is that you can locally print your necessary documents. Simply said, this means you can access your QuickBooks account from anywhere. All you need is an internet connection. The system of this remote access facility joined with QuickBooks is very secure, making information to be shared between the authoritative parties in and out of the organization really easily.
Here we will go through a guide talking about accessing QuickBooks desktop remotely. Moreover, we will see what are the advantages of doing so.
Advantages of Using the QuickBooks Remote Access Tool
The QuickBooks remote access tool offers a wide range of benefits that a QuickBooks user can leverage. Some of the most outlining benefits are earmarked as follows:
Importing and exporting a QuickBooks file from one system to another without any hassle.
You will be able to share important information between devices.
You can connect even your local printer with the remotely accessed device where you are currently using QuickBooks. By doing so, you will be able to print the documents or sheets required at the moment.
Saves time in terms of traveling and other costs related to the infrastructure of the accounts department.
Complete access to clients with respect to tracking the system and accounts.
You can copy and paste your desired files from one remote location to the other.
With the QuickBooks file, you can easily add multiple users.
This is definitely a time-saving modus operandi for those who wish to achieve more business operations smoothly within the same time.
You can keep a record and track the activities updated or edited by the other clients or subordinates using QuickBooks from practically anywhere.
Various authoritative users with the same level of permissions and controls assigned can work together on a single document file when the deliverables are due quickly.
You can manage the financial aspect of your businesses better with the lesser cost involved with accounting and bookkeeping from remote locations.
What is the Cost of The QuickBooks Remote Access Tool?
Remote Access of QuickBooks desktop is available within two editions as it's not free. You need to subscribe to either of the ones mentioned below:
Full Desktop Access: Costing around $79.75 USD per month
QuickBooks Access: This one is priced at $93.9t per month
However, there is multiple third-party QuickBooks software for remote access which you can purchase or avail at different prevailing market rates for which you will have to contact the concerned vendors first.
Read Also: How to Fix the QuickBooks Error 6190, -816?
Ways to Remotely Access the Features of QuickBooks Desktop
Using QuickBooks Desktop on Cloud services.
Trying out the online version of QuickBooks.
For the best remote experience, you can also use the Remote Access tool of QuickBooks.
Further, let's discuss the requirements for each remote access solution of QuickBooks to be clearer on what are things needed to be done and in which manner.
1st process: Using QuickBooks Desktop on Cloud Services
Intuit is helpful in allowing authorized purchasers of QuickBooks software to host the application outside the main server. This can be accessed by QuickBooks authorized owners from any location with an internet connection.
As a matter of fact, users can avail every basic features of the QuickBooks desktop on the cloud version. What's more interesting is—you can operate QuickBooks on a cloud server from different mobile devices as well with a proper internet facility, of course.
This solution is a perfect choice for those who don't want to waste time in tiresome installations and frequent maintenance of the QuickBooks on the desktop. The hosting servers take this burden off the entrepreneur's shoulders for a smoother road to the achievement of organizational goals.
2nd Process: Trying Out the Online Version of QuickBooks
This plan works entirely over the internet where you have to choose the plan for the authoritative people or clients who can access the QuickBooks accounts at the same time. There's quite a difference between the online version of QuickBooks in comparison to the Desktop and Cloud Versions.
3rd Process: Remote Access Tool of QuickBooks
This tool works fine for accessing the same QuickBooks desktop version in another system that you have installed in your previous system. Tasks like copying and sharing documents, CSV, or QuickBooks exclusive files can be done with this tool from one machine to another local one. To make the long story short, you can perform basic tasks on the data files and the information stored on your original QuickBooks desktop version from the remote machine with this swift and efficient tool.
This particular software is powered by the Cisco WebEx tool that's mastered in organizing online meetings and webinars—a smoother flow of communication between the parties across multiple geographical locations. Though, an inconsistent connection between the two devices can hamper the remote access tool's operationality.
Read Also: How to Fix QuickBooks Update Error 15106?
Here's how you can access QuickBooks Desktop Remotely
It can get difficult to trace something especially if you do not know how to set it up. In this subsection, we will talk about the ways you can set up access to your workstation. Here are the steps that will help you gain access to the QuickBooks desktop from home:
The first thing that you need to do is sign up for access. You can do this by logging into intuit QuickBooks remote access.
When you sign up, you have to register with your email and other credentials. Then you launch your browser wherein you will gain access.
Next, you need to download the tool.
When you are done, it is time to set it up. Press the 'setup computer' icon
Type in your 'nickname' in the box and then hit the next tab.
There are certain checkmarks in the option you would want to click for a better and easy user experience every time you opt for QuickBooks Remote Access Tool. These options are "Use full-screen view by default", "Disable this computer's keyboard and mouse" "Automatically reduce screen resolution to match", and also "Make this computer's screen blank."
Next, you require to checkmark the applications as well to easily access QuickBooks remotely on the second machine or device. For literally a negligible amount of fee, you can access all your files and applications with QuickBooks Remote Access. Now, tap on "Next".
Finally, you have to finish the authentication process by putting in a passcode. This will be used by your users for remote access at the time of logging in.
Then, hit on finish.
And you are done setting up your remote access account. Now you can give access to all your users and the phone number option will notify you. Any new user trying to gain access to your system will need to call you to get the passcode. But if you are still confused, there is another way of setting up. Below are the steps that will help you set up your QuickBooks remote desktop access alternatively:
Before we begin the real steps, first launch the browser which you will use to set it up.
Then you log in to QuickBooks and sign up with your credentials.
Next, you will need to tick a mark on the box where they asked for a nickname. Along with that, you will see the button 'connect'. Click on it.
You will be asked to authorize your access by sending an OTP on the phone or by the passcode. Or you will receive a call where you will be asked to input the passcode on the phone.
Finally, you will get a drop-down menu wherein you need to hit 'Remote access'.
After that hit 'End QuickBooks Remote Access Session'
You are done. All you need to do is give access to all your users and you will be working in no time.
Should you be Concerned About Any Security-Related Issues While Using the QuickBooks Remote Access?
Absolutely No. There are absolutely no security-related issues experienced while accessing the Quickbooks software remotely. Intuit makes sure to keep your data safe and secure. The level of encryption offered in the case of QuickBooks Remote access utility as well as QuickBooks online is 256-bit encryption. In addition to this, the hosts are equipped with firewalls, data recovery, and other relevant tools to tackle any security-related intricacy encountered while using the QuickBooks remote access. Therefore, as a user, there is no need to worry as the process of accessing your QuickBooks software and data files remotely is completely secure and foolproof.
See Also: Download and Install QuickBooks Tool Hub to Fix Common Errors
Conclusion
More often than not, computer setups can be really tricky. You may be able to understand the ways and methods of the setup and access your QuickBooks desktop remotely from another location. That is why we hope to be of great service. If you have any queries, feel free to call on our QuickBooks helpline number. There are experts who are also remotely working to help you out.