Simple tips to resolve QuickBooks desktop license, validation, and registration errors:
QuickBooks Desktop is a leading accounting software that is used by millions of mid and small-sized business owners from all around the world. However, both old and new users time to time keep receiving some error and glitches that interrupt their work, cause them to miss deadlines and at times lose data. Also, the errors may appear at any time, even while installing/activating the software.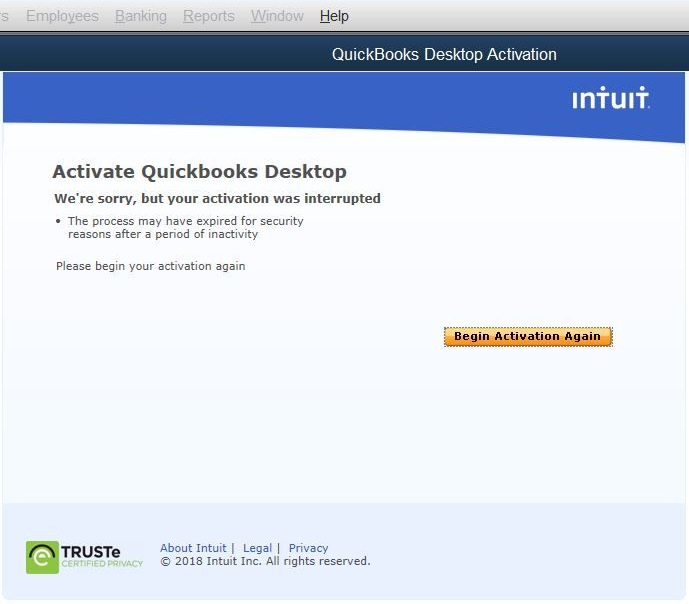 You are here on this page probably because you received an error that says: – Validation code is incorrect or the service is temporarily unavailable. But don't be confused, we have listed some of the easiest steps for you to try out and get your QuickBooks Enterprise Activation Issues. First, you must check all of these:
Is your QuickBooks account already active?
Have you listed the correct license number or the activation key that was given to you at the time of purchasing QuickBooks account? To check the same, it will be either on the CD envelope or in your inbox under the confirmation mail.
Now even after checking the above bullet points, you are in the middle of nowhere to solve your issue, let's begin to dig deeper. However, you can also get in touch with our support team for any further information. Our team of experts and certified professionals will help you to fix the bug in no time.
You may also read: What is the use of QuickBooks connection diagnostic tool?
What are activation, license, validation and registration errors in QuickBooks Desktop
There are many common errors that a user can face when you try to activate QuickBooks desktop after installing it. These errors arise with some error messages on the screen. The Error messages are given below:
"Error: The validation code is incorrect or the service is temporarily unavailable when activating."

"Message: You cannot use Online Banking because QuickBooks is not registered."

"You must subscribe to the accountant's copy file transfer service"

The Sync License Data Online option is grayed out.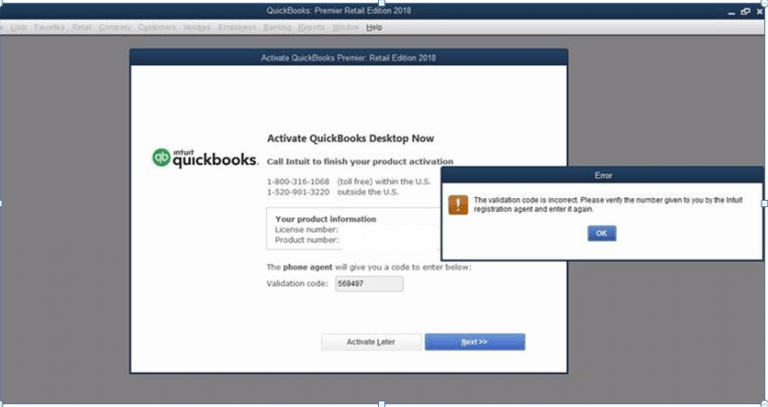 How to Fix Error: You have entered incorrect license/product numbers?
You need to check if the license number and product code match:
If you purchased the QuickBooks Desktop from Intuit official website then you need to see in the purchase confirmation email you received from Intuit.
If case you purchased the QuickBooks from a retail store then you can see the brightly colored sticker on the original CD envelope box.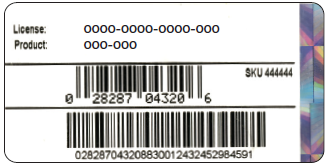 How to Fix Error: The validation code is incorrect or This service is temporarily unavailable?
Checkout the following steps to fix the following error from your QuickBooks:
Solution 1: Verify that your OS is up to date with appropriate setting, suitable for QuickBooks Enterprise Account to work
First of all, you must close the QuickBooks application.
Go to your 'Windows Task-Bar', at the bottom right corner, date and time are displayed. Right-Click on it and click 'Adjust Time/Date' option.
Choose the 'Date & Time tab' and make sure you choose the 'current date' only.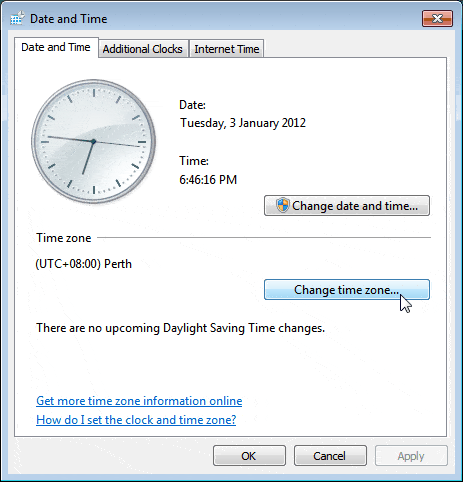 To make the changes applicable, click 'Apply' and then 'OK' button.
Once again, open the QB desktop. Select 'Help > Active QB > Begin Activation'. (in case, you have a Canadian version of the application, try this out: 'Help> Register QB> Begin Registration')
Type in your 'Active validation code' and click 'Next' tab.
Read Also: How to troubleshoot QuickBooks Unrecoverable Error?
Solution 2: This one is pretty quick and easy to follow. You just have to reset the .ecml file
Basically, when your QuickBooks Enterprise encrypted files are erroneous or corrupted somehow, no matter how many times you enter the validation code to try and activate your account, it wouldn't work. For the purpose to solve such an irritating and unknown problem, it is mandatory to remove the entitlement file and re-enter your given license or validation code with the essential product information.
Find your entitlement file first by:
Ensuring that QuickBooks is closed in the background and nothing related to it is processing in the back.
Press 'CTRL+ SHIFT+ ESC' keys to open the 'Task Manager'.
Click on 'More Details' to show the 'Task manager'. (Applicable to Windows 10)
Click on the 'Process Tab'.
Search the 'QBW32.EXE file' and 'End Job.'
Solutions 3: Reactivating the MSXML
First, check whether you have a 32 or 64-bit operating system.
To do so,
Go to your 'Desktop'.
Find the This 'PC icon'.
Right-Click to enquire which operating system you have and then proceed further for applying solution number 3.
Now, For 64-bit operating systems: register the MSXML file with 4 easy steps.
Type 'CMD' in your start menu and run as administration by right-clicking the 'Command Prompt search result'.
When the prompt is open, type 'incd \ windows \ syswow64'.
Enter 'regsvr32 MSXML4.dll' and then press 'Enter' key.
Enter the 'regsvr32 MSXML6.dll' and press 'Enter' key.
For 32-bit operating systems: Try activating QuickBooks MSXML with this quick method that will be done within ten minutes:
Press 'Windows Key + R' to open the Run pop-up tab at the bottom left corner of your desktop screen.
Type 'CMD' before pressing Enter key.
Enter 'regsvr32 MSXML4.dll,' then press 'Enter' key.
Enter 'regsvr32 MSXML6.dll' and press 'Enter' tab.
Solution 4: Run QuickBooks Install Diagnostic Tool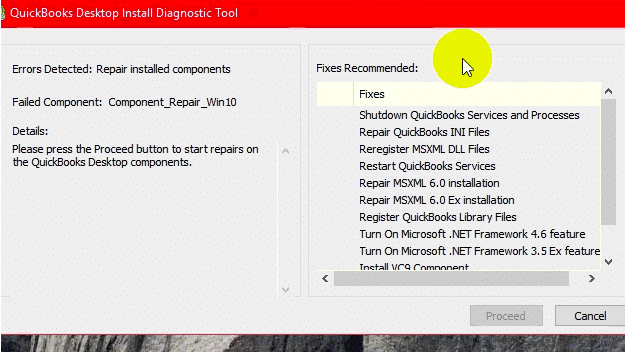 Download and Install the 'QuickBooks Install diagnostic tool' from the internet.
It's completely safe and easy to run. It will be around '200 MB' in size. So make sure you have enough disk space in your drive.
This tool helps to identify what seems to be the most genuine problem regarding the validation code error that you are encountering.
It's like QuickBooks own troubleshoot processor.
Solution 5: Creating a new Windows admin
For Windows 10
You need to initially choose start and click on settings tab.
Furthermore, click on the accounts tab and also family and other users.
You are then required to click on add another person to this PC under other user.
Moreover, click on I do not have sign in information for this person.
You now have to click on add users without a Microsoft account.
Enter the name of new account.
You are then required to click on finish by default and then set the new account as the standard user.
Heading forward, click on account type.
Choose admin from the drop down menu, click on ok tab.
Sign out from windows and sign back in as a new user.
End the process by opening QB desktop and choose help and activate QuickBooks. Also, choose start activation.
Windows 8
Under this process, you need to press windows + E to open computer window.
Moreover, choose computer and click on open control.
Heading forward, you will have to choose user accounts and click on manage another option.
Now, choose add a new user in PC settings tab.
You now have to type in the username and domain name and click on next tab.
Choose admin access for the new user and click on ok tab.
Open the QuickBooks software and move to the help menu.
Complete the process by opting for activate QuickBooks and also click on start activation.
Windows 7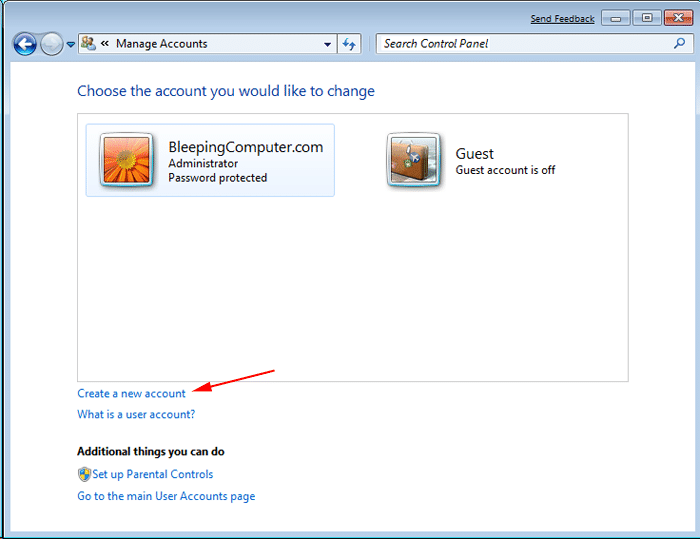 This process requires you to click on the start tab and also opt for control panel.
Furthermore, go for user accounts and choose manage user accounts.
You now have to enter the username and domain name and click on next tab.
Choose the admin access for the new user.
You are also required to open the QuickBooks desktop.
And also move to the help menu and select activate QuickBooks and click on start activation option.
Solution 6: Run Quick fix my program from QuickBooks tool hub
Any issue with QuickBooks background processes might prevent the activation process from completing. Therefore, you are simply suggested to download the QuickBooks tool hub and also run a quick fix my program tool to close any open background processes. The steps below can be implemented:
Step 1: Downloading the QuickBooks tool hub
Initially, you need to close QuickBooks desktop.
You need to save the file where you can easily access it.
Also, note that if you have installed tool hub before, then find out which version you have.
Choose the home tab.
The version will be seen on the bottom.
You now have to open the file you downloaded.
Perform the on-screen prompts to install and agree to the terms and conditions.
Once the install is complete, you need to double click the icon on the windows to open tool hub.
Step 2: Run quick fix my program
You need to now choose program problems in QuickBooks tool hub.
Furthermore, choose quick fix my program.
After that tool completes the process, you need to start the QuickBooks software and open the company file and try to activate it.
Read also: How to Reconcile in QuickBooks for Mac Operating System?
Solution 7: Perform a Clean install of QuickBooks desktop

Performing a clean install should be the last option, when the all of the above methods fail to work. A clean install won't affect the accounting data as the company file and the information stored in the file aren't involved in this process.
Conclusion!
After reading and applying the above-mentioned troubleshooting steps, if you still getting QuickBooks activation errors, you can either contact the official 24/7 QuickBooks support team or on phone call. Our team of experts boasts state of the art tools and technology and years of experience in serving organizations of all sorts and sizes. With us at your disposal, you can rest assured of quick and precise solutions.
Similar Articles:
How to Rectify QuickBooks error code 6010 -100?