Use our 7 tips to fix backup company file issues in QuickBooks Desktop like a pro
Data for any business is a crucial aspect, and QuickBooks keeps all this essential data on your computer's local storage. However, your data may still get damaged or lost due to a malfunctioning hardware device or a virus or other infections. Therefore, it is imperative to back up your company files and data regularly. To make this task easier for you, QuickBooks lets you back up everything with just a few clicks or set up automatic backups. But sometimes, QuickBooks may have trouble creating backups for your company file – then you may perform the following steps to troubleshoot the backup company file issues in QuickBooks desktop. 
If you are also getting "QuickBooks Unable to Backup Company File" or "QuickBooks backup failed" error, then follow the complete article until the end for full troubleshooting info.
Read Also: How to Resolve QuickBooks Error 6209?
What is QuickBooks Company File Error?
You may receive this error while creating a backup of your company file. You may receive "QuickBooks Unable to Backup Company File" or "QuickBooks backup failed" message on your computer screen. It certainly is easy to spot this error. And further in this article, we will explain how to fix this error.
What Causes QuickBooks Unable to Backup Company File Issue?
One or more of the following conditions may trigger backup error in your QuickBooks desktop company file.
The external storage device used by QuickBooks for backup is not connected to the computer.
Company file data is damaged.
The company data backup path isn't correct.
Insufficient storage to store the backup file.
Steps to Fix QuickBooks Unable to Backup Company File Error
Checkout these DIY methods in order to resolve the QuickBooks desktop backup failure issue.
Solution 1: Verify and Rebuild QuickBooks Company File
Go to the File menu, click on the Utilities drop-down and select Verify Data.
If Verify Data tool shows issues with the company file then click on the Utilities drop-down once again and click Rebuild Data.
After the tool is done repairing the damage, try to backup the company file once again and check if the "QuickBooks not backing up" error is fixed.
Solution 2: Check the Backup Directory in QuickBooks
Open QuickBooks Desktop and go to the Preferences section.
Go to the Backup Options section.
Under the Local Backup Only section, check the backup directory.
Ensure the path to create the backup file in QuickBooks is correct.
If the backup path is incorrect or unavailable, click Browse and then select the right folder location to store the backup of the company file.
You can also make change to the backup path before creating a backup of the company file from the Create Backup window.
Solution 3: Change the name of the Network Data (.ND) File
Close QuickBooks program and go to Windows File Manager.
Follow the path C:\Users\Public\Public Documents\Intuit\QuickBooks\ and reach the network data file (file with the same name with .ND extension).
Right-click on the file and select Rename.
Write .OLDFILE at the end of the file name and click Save.
After you have renamed the file, try to create a backup of the company file once again. If the error "QuickBooks was unable to back up your company file" persists, move on to the next step.
Solution 4: Verify Available Storage on the Backup Device
"To back up your company file, there must be 645106849 bytes of space available on 192.168.0.243, but currently thee are only 31055872 bytes available. Please free up some space on this drive and try again."
Did you receive this error message?
It may be due to low storage space and you may need to remove some unnecessary files from your drive for creating the required space for QuickBooks to create a program.
Solution 5: Reset QuickBooks Updates
At first, open QuickBooks and go to the Help tab.
Click on Update QuickBooks Desktop option and then the Update Now tab.
Check on the checkbox the Reset Updates option and click Get Updates.
After that hit a click on OK to continue and allow QuickBooks to install updates.
Now click on OK and Exit Update QuickBooks window.
Restart QuickBooks Desktop and try creating a backup of the company file once again.
Also See: Fix QuickBooks Error code 6190 (Company file doesn't open)
Solution 6: Reset your password
"Your data has NOT been restored if you failed to enter the correct admin password"?
Have you received this error message?
You can download the Automated password tool for QuickBooks Desktop. Once the tool is downloaded, run it and follow the prompts to reset the password. And try to restore your company file again.
Solution 7: Restore missing payroll data
Some of the payroll data from the QuickBooks file may be missing and before entering any new transactions, you should restore the missing data. Perform the following steps:
Open the Employee menu and select Send Payroll Data.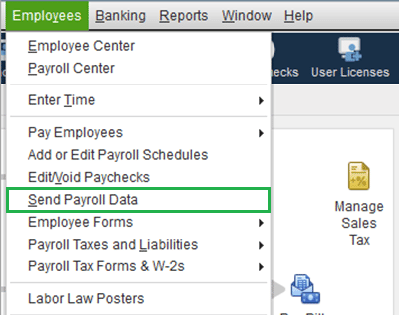 Check the Items to send field. See if the data is correct and select Send.
See Also: Steps to Fix Error 1603 when you install QuickBooks Desktop
Winding Up!
We hope that you are able to backup your company file in QuickBooks after performing all the steps provided in this post. In case you need any further help in restoring your data or repairing the damaged company file, you can speak to our certified QuickBooks error support experts via our helpline 1-800-615-2347.
More helpful topics:
Steps to Fix QuickBooks Desktop install errors
How to Fix Company file is missing or cannot be found error in QuickBooks?
Install multiple QuickBooks Desktop versions on one computer