Here are the most common reasons and solutions of QuickBooks Error H505:
Small and mid-sized businesses all around the globe count on QuickBooks for its user-friendliness and multitasking features. This is a robust accounting software that can even be used by more than one users at the same time (depends on the version you buy) and from remote locations. However, the software does receive some errors occasionally. Mostly, the issues can be fixed using the prompts offered by the software. And sometimes they may require some troubleshooting either by users or by an expert.
What is QuickBooks error code H505 and why it occurs?
One common issue that we are going to discuss in this article is QuickBooks Error H505. This issue occurs with multi-user hosting set up. You may face it when attempting to access your QuickBooks file on a different computer that lacks some installation setup. Such issues cause error H505. When a user tries to open a company file on a computer from a different computer this error appears on the computer screen. You may get the following image if QuickBooks error code H505 occurs on your software: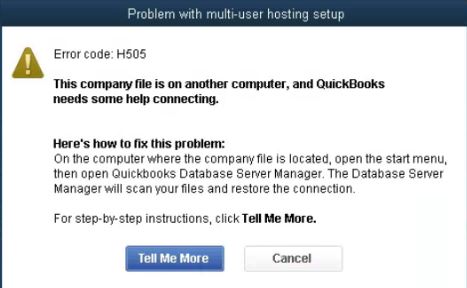 Important: This error code belongs to a series of errors that involve the hosting setting such as QuickBooks Error Codes H101, H202, H505, etc. All these errors occurs due to the same issue – a user trying to open the company file in multi-user mode or a system that has an incomplete installation set-up of the accounting software.
Possible Reasons behind to the QuickBooks Error code H505
Some of the causes of this error code are as following:
The QuickBooks file you are trying to access is located on some other computer.
QuickBooks installed and available in the system server name is set-up to consent to all the shared connections to the company file, however, the QuickBooks accounting software is failing to communicate resulting in error H202.
When you try to open your company file stored on another computer that involves additional installation and setup for an appropriate approach resulting in Error Codes H101, H303, and H505.
Your system's firewall or antivirus is blocking access to the computer where the company file is stored.
.ND file may be damaged.
The required hosting configuration setting is not appropriate.
QuickBooks failed to acquire the Internet Protocol (IP) address of the system where the company file is stored.
Symptoms of QuickBooks Error code H505
The QuickBooks error code H505 can be identified easily, if the multi-user mode cannot be used.
If you fails to open the QuickBooks company file stored on the server.
In case the QuickBooks program window gets crashed, you might encounter such issue.
Another indication of the same can be when QuickBooks error code H505 flashes on the screen.
If the system or laptop crashes frequently, then it is a symptom of Error code H505.
Windows might become unresponsive and freeze periodically or software freezes.
You'll also read: How to Fix your Beginning Balance in QuickBooks Desktop?
Solutions to troubleshoot the QuickBooks multi-user error H505
Try these solution steps in order to resolve the QuickBooks error code H505:
Solution 1: Make changes in your system's firewall settings and create exceptions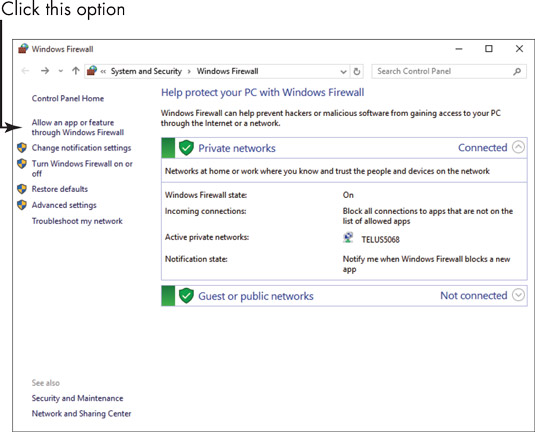 First of all, Click the Windows key on the keyboard and go to Control Panel.
Click on Control Panel and then Firewall Settings.
After that choose Allow a Program through your system's Firewall.
Click on Add Program and include QuickBooks 20xx to the exception list.
Restart your computer to save the changes.
Add the following ports according to the version of your QuickBooks software:
QuickBooks Desktop 2015: 8019, 56725, 55363-55367
QuickBooks Desktop 2016: 8019, 56726, 55368-55372
QuickBooks Desktop 2017: 8019, 56727, 55373-55377
QuickBooks Desktop 2018: 8019, 56728, 55378-55382
QuickBooks Desktop 2019: 8091, XXXXX, XXXXX-XXXXX
QuickBooks Desktop 2020: 8091, XXXXX, XXXXX-XXXXX
Solution 2: Assess QuickBooks Hosting Settings
Firstly Open QuickBooks on both the systems configured as multi-user.
Click on File and hit a click on Utilities.
Discontinue Hosting Multi-User Configuration.
Turn on Hosting through File in one system and then click Utilities option.
Host Multi-User Configuration.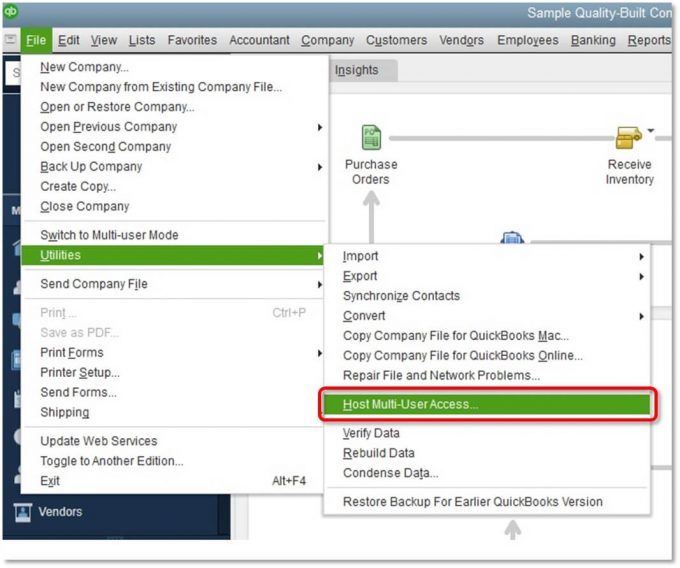 Restart QuickBooks software on both the QuickBooks.
Read Also: How to Fix QuickBooks Update Error 1625?
Solution 3: Make changes in the setting of your QuickBooks folder location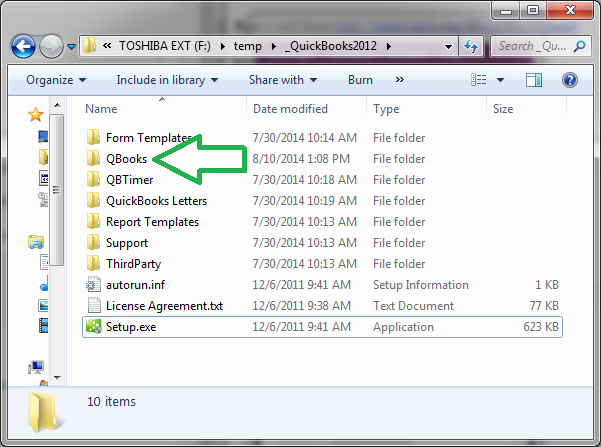 Make a New folder on the hosting system.
Share the folder.
Set/change Windows access permissions to share company files (contact an IT professional if you are not able to access the QB file server).
Now copy .qbw file and paste it to the new folder.
Finally, open your company file in multi-user mode.
Solution 4: Use QuickBooks File Doctor tool
Firstly download and Install the QuickBooks file doctor tool to repair the damaged company files.
Hit a click on Run button to execute the file doctor tool.
This tool will take up-to 20 mins time to scan and detect the problem.
Read also: Steps to solve QuickBooks error 6123
Solution 5: Configure the firewall ports settings
You need to open the run box by pressing windows + R keys.
Run command to open the control panel.
Select the system and security option after that open windows firewall and network protection.
You now have to click on advanced settings tab and also click on inbound rule.
Select new rule and then choose a port and click on next tab.
Select the correct TCP option.
Enter the port of QuickBooks year version.
After the year code has been entered in the respective field, then click on next tab and reboot QuickBooks.
Solution 6: Editing the host file
Step 1: Finding the IP address and system name of the server and workstation
Press windows + R keys and open run box.
Type in cmd and enter key,
Open command prompt window.
Type in ipconfig/all and click on enter tab to run command.
Find the host name in the windows IP configuration section.
Write the host name and IP address.
Repeat the process for all system that have multi-user setup.
Move back to the workstation to test the server.

Move to the windows start menu.
Type run into the search bar and open run command.
Now type in cmd into the run window and press enter key.
Type ping and then hit enter tab.

Step 2: Edit the windows hosts file
Shut down the QuickBooks software and move to the start -menu.
Now move to the PC option and head to the address:

C:\Windows\System32\Drivers\Etc
C:\Windows\System64\Drivers\Etc

If you are not able to find the windows folder, then perform the steps to unhide the folders.
Click on the view tab and click on hidden items.
Right click the view tab.
Click on open with option and open with notepad.
Fill in the IP address and system name.
Save the changes and then reopen the QuickBooks software in multi-user mode.
Solution 7: Run the QuickBooks Database Server Manager on your server
Step 1: Download and install the QuickBooks Tools Hub on your server
Firstly you need to close QuickBooks software.
After that download the most recent version (1.5.0.0) of the QuickBooks Tool Hub and save the file on your system.
Open QuickBooksToolHub.exe file
Follow the on-screen steps to install and agree to the terms and conditions.
Now double-click on icon to open the tool hub.
Step 2: Run the QuickBooks Database Server Manager on your server
Inside the QuickBooks Database Server Manager, choose Start Scan if you see your company file folder(s). If you don't, Browse to the location of your company file and then select Start Scan.
The database server Manager will repair your firewall permissions automatically. Once the scan finishes, select Close.
Open QuickBooks on each workstation where you see Error H202. Select File and Switch to Multi-user Mode. If you use your server computer as a workstation, be sure to check it too.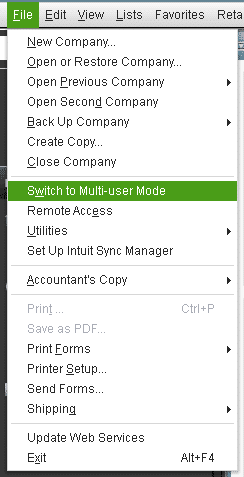 In case your workstations can go into multi-user mode without any issues, everything is fixed.
Summing Up!
The above-mentioned solutions shall enable you to fix QuickBooks Error H505 and resume working. However, on the off chance that the issue persists, you can contact us and speak to our QuickBooks enterprise support experts. We'll be more happy to help you.
You may also like:
Resolve Data Damage on your QuickBooks Company File
How to Fix Printer Not Activated – Error Code -20 on Windows 7 or later versions?